Tazuna Maki

This really cute looking rainbow roll was part of a huge sushi dinner I made last weekend when some friends came over. Perfect for when people come over, just a different way of making a regular sushi roll! This is considered decorative sushi and tastes quite good as well. Just remember to use Japanese short grain rice to ensure the right consistency and of course fresh sashimi grade shrimp (ebi), yellowtail (ahi) and smoked salmon sashimi.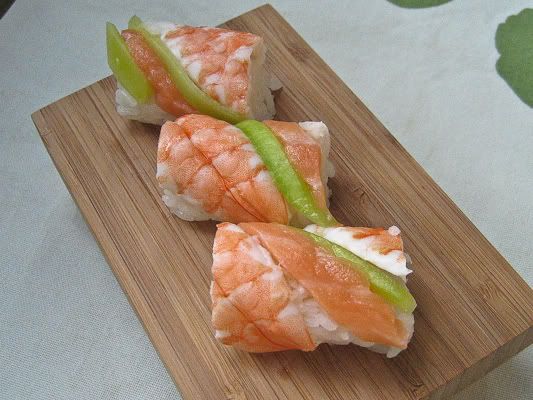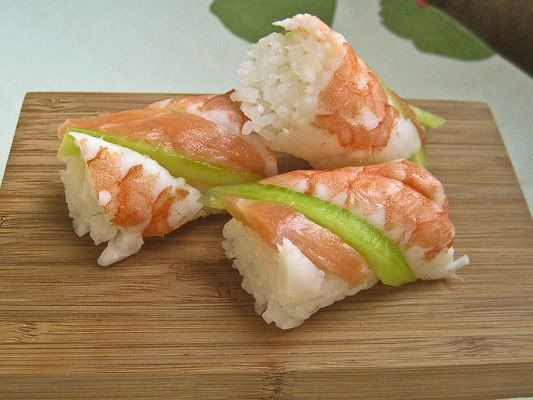 Want to make more sushi?
Check out my step by step posts when I made an assortment of sushi

Ingredients:

5 shrimp (cooked) - you can find these prepackaged at all Japanese grocery stores
Smoked salmon (sliced about 1/8 inch thick)
Japanese cucumber (sliced thinly as well)
4 pieces of yellowtail sashimi or you may substitute with any white fish sashimi (the idea is for different colours on the roll)
1 cup Japanese rice

Method:

Firstly, prepare the sushi rice. When the rice has finished cooking, turn it out into a large bowl (preferably wooden). Slowly pour about 2/3 cup of the sushi dressing (which should be cool - you can force cool the dressing by placing the bowl in iced water). into the cooked rice and mix by 'slicing' across the rice instead of mixing in a circular option with a rice paddle. Mix well and let cool to room temperature. Once cool, mound the rice in the center and cover the bowl with a damp cloth and the rice is ready for use.

For the sushi dressing:
1/2 cup rice vinegar
5 1/2 tbsps sugar
1 1/2 tbsps salt
1 inch length konbu (kelp)

Mix the ingredients above together and heat until sugar dissolves.

Hand vinegar:
1 cup water plus 2 tbsps rice vinegar (this is for wetting your hand while rolling sushi to avoid the rice sticking to your hands)

Place the ingredients alternately across the mat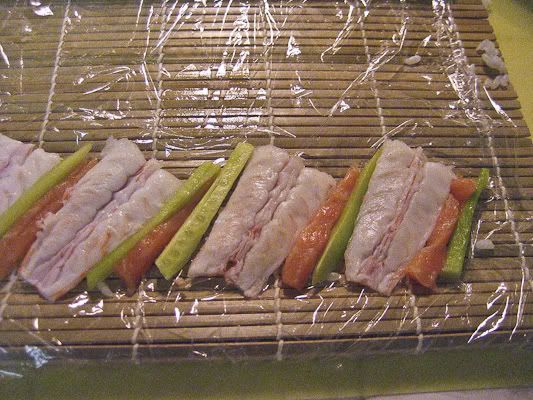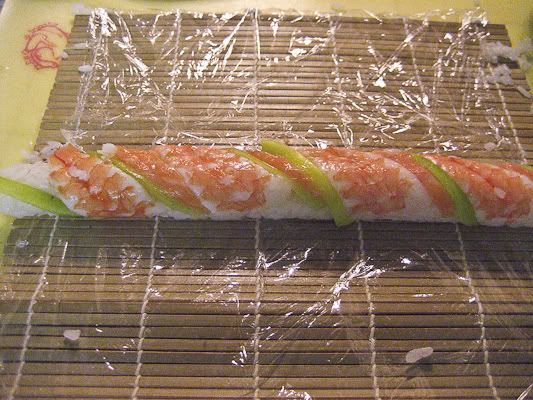 For the roll:
Moisten your hands with hand vinegar. Form about 1/3 cup unpacked sushi rice into a loose log and roll in a bamboo rolling mat until it is about 1 inch in diameter. Line the bamboo mat with plastic wrap. Lay out the ingredients diagonally, alternating between them. Repeat to the end of the mat. Lay the roll on top of the strips and carefully roll up. Press and shape the roll, remove the bamboo mat and set aside. Cut into about 1 inch pieces and serve. Remember to wet your knife with water and flick with your wrist to get rid of excess water each time you slice the sushi roll - this is avoid the rice from sticking onto your knife and will ensure nice cuts.