With the winter weather slowly creeping up on us, what better recipe to feature than a great 老火湯 (slow-stewed soup) recipe. 粉葛 or 'fan kot' in Cantonese or 'fen ge' in Mandarin is a root vegetable and is known as kudzu root in English. This humble vegetable has been proven to be very rich in medicinal value and its root is usually stewed in soup for its' heat-dispersing or 解熱 properties. Due to its 解熱 properties, this soup is also very good for one's complexion - tasty and nutritious! This soup is great to drink in hot weather as well - being a huge fan of Cantonese soups, I had the whole pot for myself. The trick with all good 老火湯 or slow-stewed Chinese soups is NOT to add water during the stewing process at all. If you decide to add water in the middle as it's looking not enough - don't, all flavour will be lost and you will have a big pot of watery soup, not very desirable I would say. I cook my soup for about 3-4 hours at least to ensure a tasty and heart-warming pot of soup.




My soups are extremely simple and very tasty if I do say so myself (!), the main ingredients needed for a pot of nutritious and yummy soup are pork (you may use spare ribs or pork shank) depending on the type of soup and your preferences, some dried cuttlefish (these are essential for a 'sweet' pot of soup), some red dates if you prefer and the vegetable of your choice e.g. lotus root, daikon, watercress and in this case kudzu root or 粉葛.

This is how 粉葛 looks like: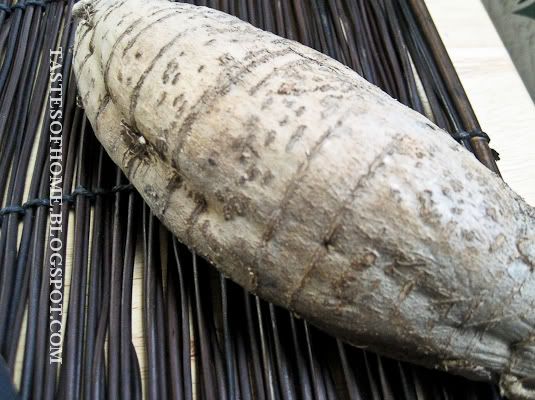 A nutritious and tasty pot of good soup is quite central in most Chinese households (especially to the Chinese from the southern part of the country) and some Chinese people even went as far as to say that a women with superior soup-making abilities will be better able to hold on to her husband!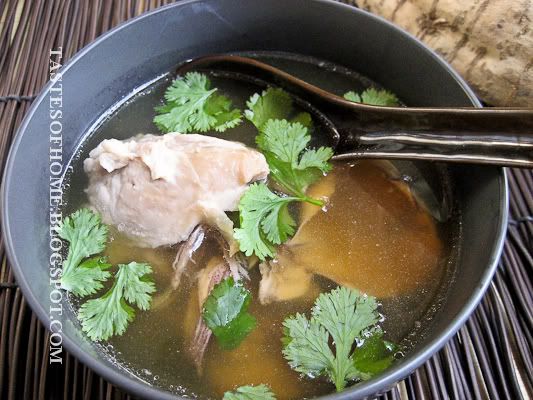 Finally, when I'm about to drink or serve most Chinese soups, I like to sprinkle some chopped green onions and cilantro (Chinese parsley) for added fragrance.

For more soups on Tastes of Home, try:

Chinese Mixed Vegetables Soup

Chinese Lotus Root Soup


Ingredients:
1 kudzu root, sliced roughly
3-4 dried baby cuttlefish (rinsed quickly) - you may use 1 whole dried cuttlefish if you wish
2 pieces of pork shanks (about 4 inches long each) - you may substitute with spare ribs
About 10 cups of water
Green onions and cilantro (optional)


Method:


First, make sure to peel off the skin of the kudzu root throughly and scrub well under water to remove all traces of dirt. Next, chop the root roughly. Rinse the cuttlefish quickly under cold water and set aside. Blanch the pork shanks in some boiling water for a quick minute and remove once the surface of the meat turns colour. Wash off the pork.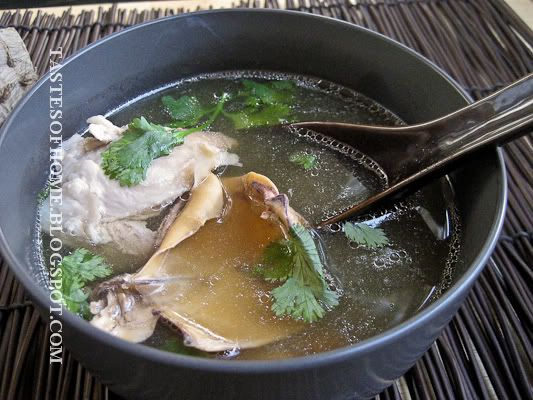 Get a pot of boiling water ready in a soup pot. Once the water is boiling, place the kudzu root slices, pork and cuttlefish into the boiling water gently. Bring to a boil again, turn the heat to low. Cook uncovered for about 3-4 hours. Add enough salt to taste before serving. Garnish with some green onions and cilantro. Serve hot.