My mom has been asking me to feature this for a bit - this is a childhood favourite of hers and of mine as well. According to my mom, she first tasted this at one of her classmate's house who had a "Ma Jie" that referred to a class of lady workers from China (the ladies with the pig tails who pledged singlehood throughout their lives) who usually performed domestic duties as a cook. I believe this dish is of Chinese origin.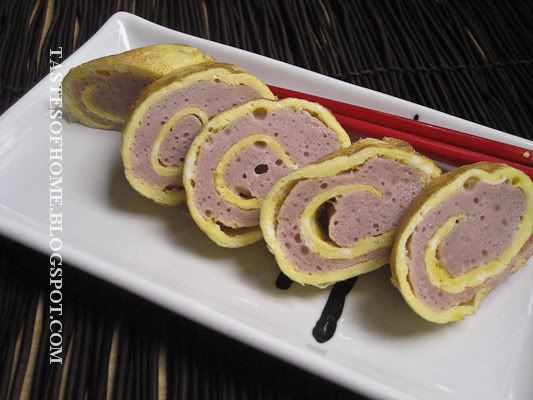 Anyway, once my mom tasted this, she requested for it at home and I think that's how it became a family favourite of ours. Fish paste is spread on omelette and subsequently rolled up not unlike rolling up a sushi roll. However, I did not use a sushi mat but opted for some parchment paper to assist the rolling. I took a 'short-cut' however by using store-bought fish paste - you may also make your own if you're so inclined and have the time.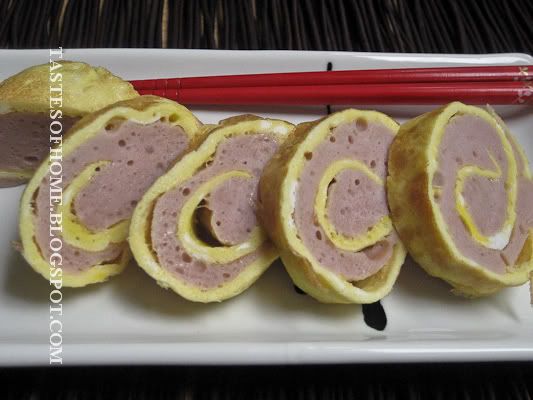 These rolls are very pretty to look at and delicious to boot - served with sweet chilli sauce or even just ketchup, these will make popular appetizers or snacks at parties as well.



For more tasty Chinese snacks or appetizers, try these recipes:

Deep-fried Beancurd Skin Rolls with Fish Paste Recipe

Shanghai Pork and Shrimp Crystal Dumplings Recipe

Golden Wrapped Tiger Shrimp Recipe

Ingredients:
1/2 tub of fish paste
4 eggs
1 tbsp water

Add to fish paste:
1 stalk green onion, chopped finely
1 tsp Chinese Shaoxing Wine (Chinese Rice Wine)
Dash of pepper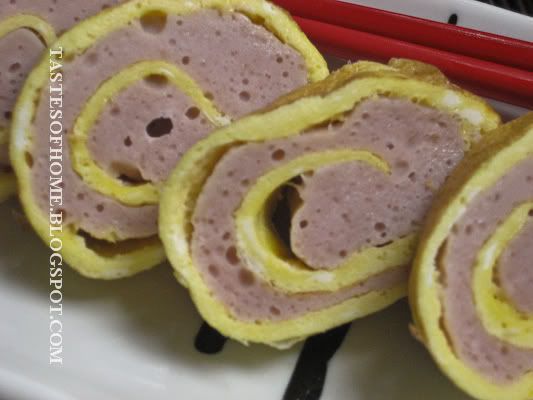 Method:
First, add the ingredients above to the fish paste and mix throughly. Coat a flat, non-stick pan with about 1 tablespoon cooking oil and swirl to coat evenly. Once hot, pour in the beaten eggs (add 1 tbsp water) to coat the pan. Depending on the size of your pan, you can fry 2 eggs at once or 4 eggs. The 'ideal' omelette should not be too thick nor too thin but I always think there is no one 'right' way to cook, so do adjust the thickness according to your preferences.

Once you see the omelette 'set', remove from pan. Place on a piece of parchment paper for ease of rolling. Now, coat the omelette with the fish paste (just like you would in sushi) about 3/4 of the omelette (the omelette is now your seaweed sheet or nori sheet). Roll up carefully, 'tucking in' as you do so. Seal the edges with some extra fish paste. Repeat with the remaining.

Next, wrap the entire roll with some plastic wrap and steam it for about 15-20 minutes. Once cooked, remove from heat and slice diagonally. Serve with dipping sauce of your choice.