Recipe adapted from Martha Stewart.

I used to be a huge fan of Danish butter cookies, those sold in round, blue tins and I remembered how fun it was when I was a child to open the tin and to eat one cookie of each design although they essentially were the same cookie! I think my favourite was the design that looked like a figure 8 (?) that was frosted with sugar. Unfortunately, the average Danish 'butter' cookies one gets nowadays are a far cry from those found years ago - hence I decided to try to find a good recipe and use real butter for some good old butter cookies. These yummy cookies were also very simple to make and turned out great even for a baking novice like me. I also liked the fact that these cookies were not overly sweet - these are cut cookies by the way which suited me even better as I am not exactly very nifty with the rolling pin not to mention the floury mess that will ensue.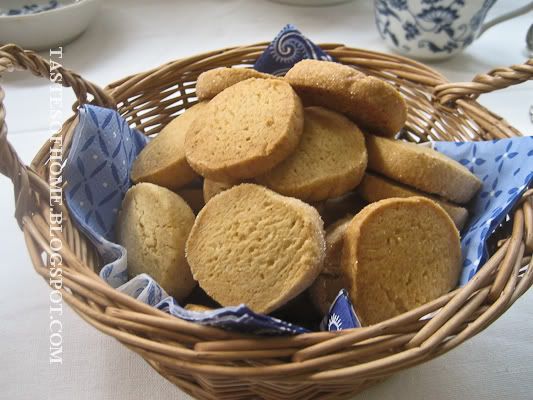 Also, this is the first time I attempted to try out one of Martha Stewart's recipes and I am extremely delighted to say that these butter cookies were melt-in-your-mouth delicious. From what I've been reading, French butter cookies are also known as 'sables' which is French for sand. I actually forgot to add the decorative touch in Martha's recipe by poking 4 holes for the cookies to resemble buttons before baking but they were no less tasty. I shall remember the next time I make these - my mom is extremely picky when it comes to cookies but these got her seal of approval (phew!) so this means that they are really good!

Rolls of buttery goodness! See though, the cookies that are cracked on top - those were part of my first batch, I think I placed them onto a rack which was too high up..oops!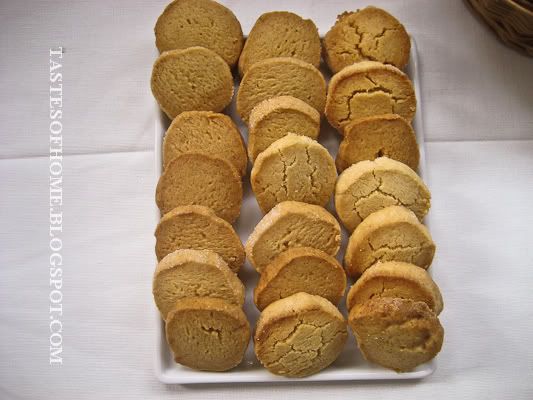 If you are in a rush to get your butter to room temperature, try cutting it up into smaller cubes and leaving it out or heat the butter in the microwave on high at 5 second intervals (I went this route and microwaved the butter 4 times for 5 seconds each).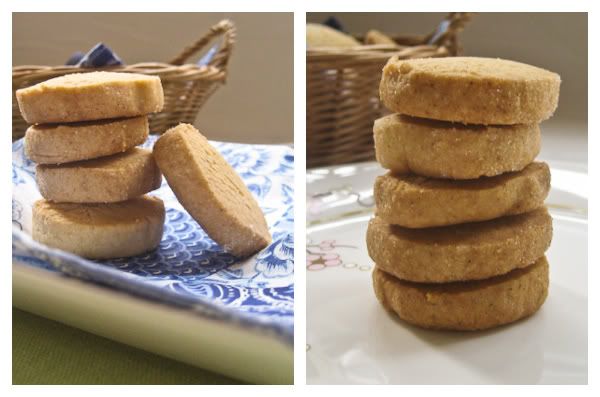 Update: I baked another batch and tweaked the amounts of ingredients just a little bit and I preferred the new results!

Ingredients:

1 cup (2 sticks) unsalted butter, room temperature
2/3 cup plus 3 tbsps packed light-brown sugar
1 large egg
1 teaspoon pure vanilla extract
2 1/2 cups sifted all-purpose flour
1 teaspoon 1/2 teaspoon salt
1/2 cup granulated sugar for rolling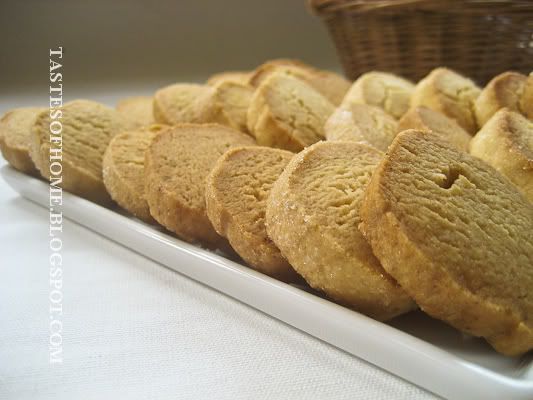 Method:

In the bowl of an electric mixer fitted with the paddle attachment, combine butter and light-brown sugar; beat on high speed until fluffy, 2 to 3 minutes. (I actually mixed by hand.) Add egg and vanilla, and mix to combine. Add flour and salt, and mix on low speed until flour is incorporated - don't overmix.


Roll dough into three 1 1/2-inch-diameter logs. I used a bamboo sushi mat. Wrap in plastic wrap or baking paper, and refrigerate until firm, at least 1 hour or overnight.

Heat oven to 350 degrees. Line baking sheet with parchment paper. Roll cookie log in sugar, coating it evenly, and slice into 1/4-inch rounds. If you find your batter going too soft, place the entire tray with the cut-out cookies in the fridge for about 15 minutes before baking to make sure the cookies don't 'collapse' in the oven. Place cookies on baking sheet about 1 inch apart. Bake until golden brown, 15 to 20 minutes. Remove from oven, and let cool completely on wire racks. Store in air-tight container.