It is said that madeira cakes are an old English tradition. According to what I've been reading, madeira cakes were so named because of the madeira wine that was traditionally served with the cakes. The recipe for the cake sounds just like one for butter cake although almond meal is added which gives it a different and unique texture. I decided to make an orange and cherry version today by just adding some orange paste and chopped up cherries into the batter. They turned out pretty well. I eschewed icing this time but if you wish you can make an easy icing by mixing some icing sugar with water and just pour on top of the cakes.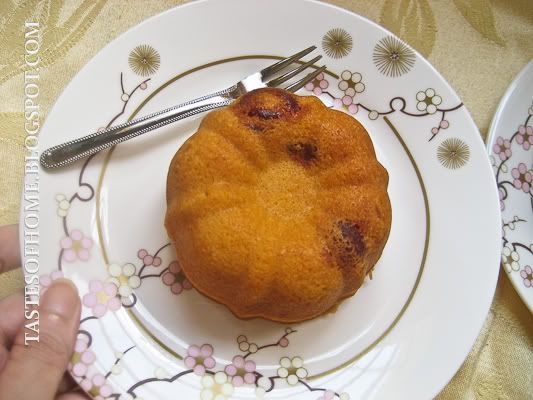 My love for baking seems to be growing stronger, growing in spades as a matter of fact. I have been asking myself the same question - why didn't I start taking an interest in baking sooner, hmmm guess it's not too late to start now though!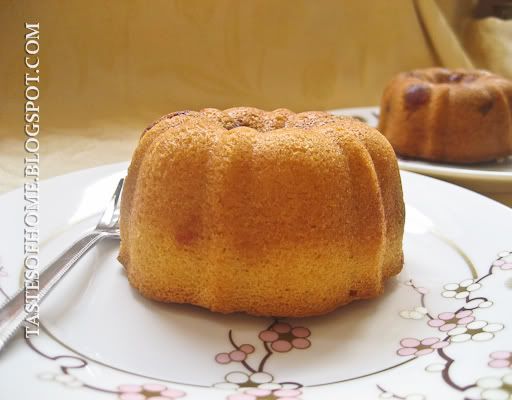 If you don't like maraschino cherries, you can substitute with fresh cherries or cranberries.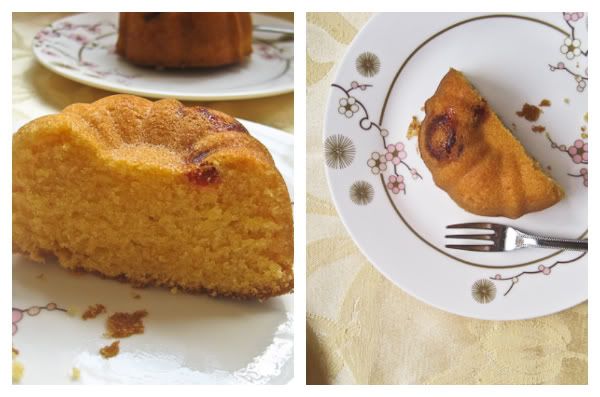 By the way, don't you think being a patisseur sounds lovely? Perhaps instead of going to London to study economics, I should have hopped over to France to study and apprentice at a pâtisserie and maybe I could have ended up being a maître pâtissier! (haha)

Ingredients:

Basic cake:
227g butter, well softened
3/4 cup granulated sugar
1 tsp vanilla extract
3 eggs
1 cup plain flour
3/4 tsp baking powder
2/3 cup almond meal (ground almond)

Orange and Cherry variation:
2 tsps orange paste
12 cherries, halved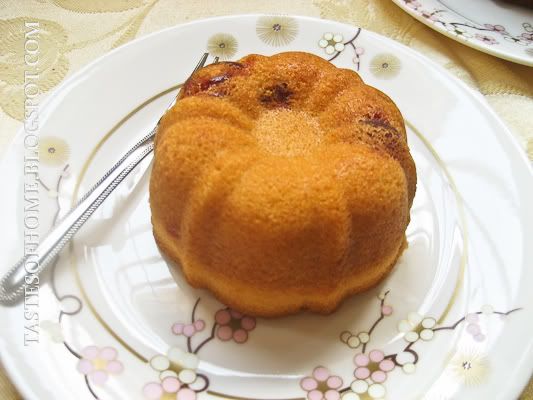 Method:

Preheat oven to 170 degrees C or 325 degrees F. Beat the butter till fluffy. Add in the sugar and beat till pale and fluffy. Beat in vanilla essence gently. Gradually add the eggs, one by one, mixing well after each addition. Add the orange paste and mix well.

Sift the flour and baking powder over the butter mixture and gently fold in with a large spatula the almond meal. Add in the halved cherries (coat with flour first) and gently mix well. The cherries were coated first with flour to avoid all of them from sinking to the bottom.

Spoon the cake batter into prepared pans of your choice and bake for about 25-35 minutes. Check with a cake or wooden skewer. Cool in baking pan for 5 minutes before turning out onto wire rack to cool completely.