Sambal belacan ikan bilis is definitely a classic in Malaysian cuisine. Sambal belacan essentially refers to a spicy chilli paste that can be added with different ingredients to suit different taste buds but the basics are chilli peppers (of course!) and toasted shrimp paste (belacan). This popular condiment cooked with anchovies for today's feature is extremely versatile and is a great base for many dishes from vegetables like kangkong (water spinach), stuffed in fish and used in fried rice. To the uninitiated however, sambal belacan may be too pungent - this condiment definitely belongs to the 'acquired-taste' category!




Although I can't say I'm a strict purist when it comes to cooking, but for sambal belacan I prefer to use the mortar and pestle and pound my belacan the old-fashioned way instead of opting for the blender or food processor. It can be time consuming however to pound the belacan the old-fashioned way so maybe that's why I don't cook with belacan a lot. I usually make extra belacan while I'm at it as if you keep the sambal belacan in an airtight container in your fridge, it can keep up to 1 week at least (that is if it will last that long!). Today's feature is a simple and quick stir-fry I will usually whip up whenever I happen to have some homemade belacan sitting in the fridge.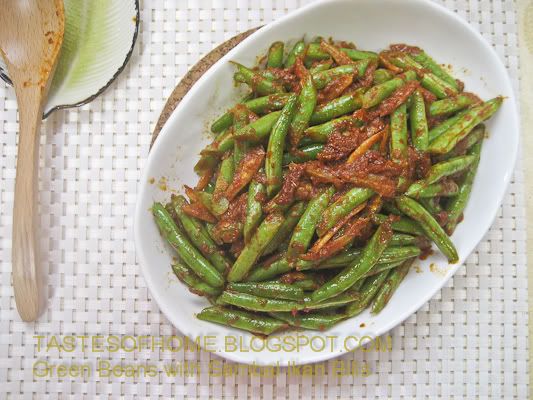 Ingredients:
1 cup dried anchovies, rinsed in water and drained
3 cloves garlic, minced
1 packet of green beans, sliced at an angle
1 tsp tamarind juice - optional
Dash of salt (if required)

Sambal belacan: (pounded in a mortar and pestle, or feel free to use a blender/ food processor)

6 shallots, peeled
8 red chilli peppers - remove seeds for less spiciness
1-2 tsbps of dried shrimp, soaked in water briefly
1-2 tbsps worth of belacan paste, dry-fried in a wok (this is to bring out the pungent fragrance more)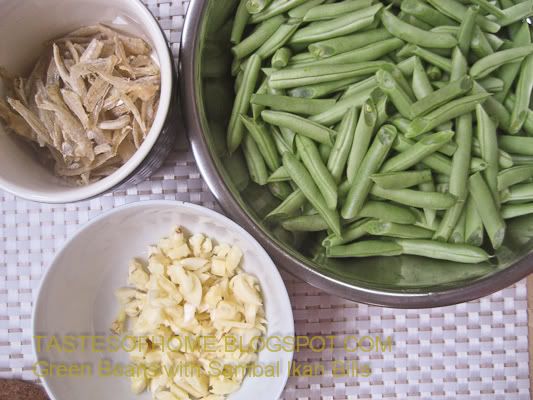 Method:

After preparing the sambal belacan, set aside. Blanch the green beans in hot water for a quick minute. Remove from water and drain. Heat about 1 tbsp of oil in a wok or pan and saute the garlic until fragrant (on low heat). Next, add about 4 tbsps of the prepared sambal belacan (mixed with turmeric juice) and stir-fry for about 1 minute. Add the anchovies and stir quickly to coat. Finally, add in the blanched green beans and stir for about 1 minute to coat well. Do a taste test and add a dash of salt if required. Serve hot with steamed rice.