Whenever I am feeling under the weather, nothing soothes me as much as a good bowl of Chinese style soup (congee comes a close second). However, when there is not enough time to make my favourite kind of 'slow-fire' soups which typically require a boiling time of at least 4-6 hours and also require more 'exotic' ingredients, today's feature is a great alternative. Today's soup is an exceptionally soothing and extremely easy soup to make requiring only three ingredients, honeydew, chicken and red dates, I mean excluding water and salt. The weather here in Malaysia has also been extremely hot and dry recently so this was a great soup to combat the dry heat.




Making savoury soups with fruit is a first for me, the honeydew worked surprisingly well with the chicken where its' natural sweetness complimented the sweetness of the dates perfectly. Honeydew is also a very nutritious fruit that is said to combat 'heatiness' and adding it today just made the chicken broth so much more soothing and refreshing than usual. I do hope that you will give this simple Chinese home-style soup a try and I am glad I tried this today as I had always been a little wary of adding fruit to savoury soups - I was more than pleasantly surprised and I shall definitely be making this again. The original recipe called for spareribs which would probably produce a deeper taste, using chicken produces a more delicate flavour - both great depending on your personal preferences.




Note to little brother in UK - you and your friends should totally make this, okay?

Recipe adapted from 'Delicious' Chinese Magazine.


Ingredients:

1 small free-range (preferably) chicken, skinned and rinsed
1 small honeydew melon, remove skin and cubed
6 red dates, seeded
8 cups water
Salt, to taste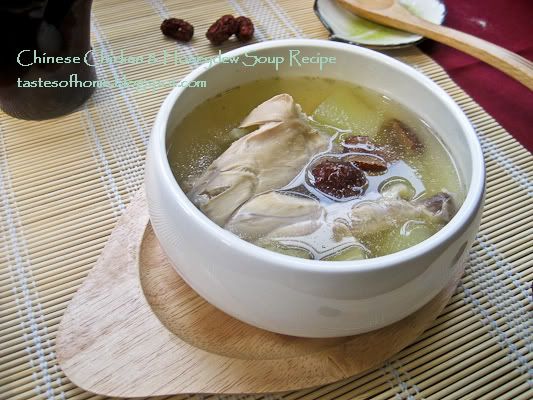 Method:

Firstly, boil enough water in a soup pot to blanch the chicken. This step is done to remove impurities. Drain chicken and discard water.

Clean the pot. In the same pot, add the water, red dates and chicken. Bring to a boil. Once rapidly boiling, turn heat to low and boil for about 1 - 1 1/2 hour, covered (my cover has a small vent so I can totally cover the pot, if not do not entirely cover the pot). Check occasionally. Remove any scum that may appear (these will float to the top of the soup).

Add honeydew cubes and bring to a boil. Turn heat to low again and boil for another 1/2 hour. Add salt to taste. Serve hot.