Simple is really the best sometimes. Although I do love fried chicken now and then, there is nothing as easy and delicious as a good stir-fried chicken dish. For today's feature, I made Thai basil chicken - an extremely popular Thai method of cooking chicken. Flavours are clean and spicy, this basil chicken is simply stir-fried with garlic, shallots, bird's eye chilli peppers and of course Thai basil (you can substitute with regular basil which is milder) which gives the dish a delicious and refreshing hint of peppermint. Savoury fish sauce (nam pla) complete the dish. For the gorgeous glaze you see, I added some thick caramel sauce from my favourite brand, Yuen Chun that complements the slight sweetness of the dish as well. This dish goes perfect with rice and can be whipped up in a matter of minutes. I actually love this chicken dish with pasta as well.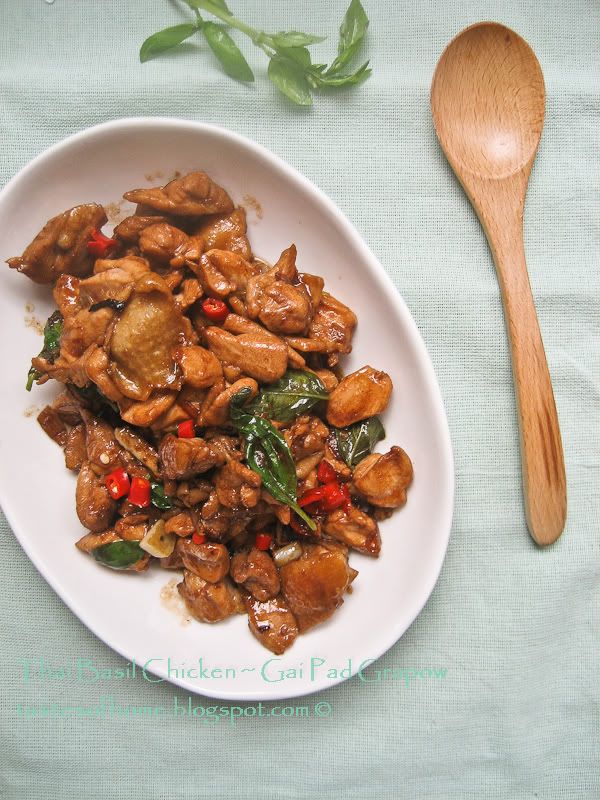 As this is such a simple dish, again if at all possible, do use a Chinese wok - as long as you make sure your wok is hot enough before adding oil, you will not end up with bits of chicken sticking to your wok and that's a promise. I have been touting the importance of wok breath in many simple dishes which is simply not achievable with non-stick pans as Chinese woks are usually heated to extremely high temperatures which will start melting the non-stick coating on such pans. However, a perfectly delicious stir-fry is still possible with non-stick pans, in fact I have only recently 'graduated' to carbon woks but do try a wok if you want to recreate this elusive 'wok breath' at home which will add so much to your Chinese homecooking.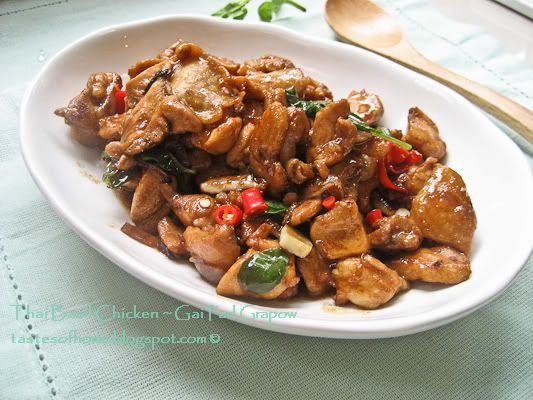 This is part of my series in Yuen Chun recipes, an ongoing project for this blog.


Ingredients:

6 chicken thighs (get boneless if you can), sliced into bite-sized chunks
Handful of Thai basil (or substitute with regular basil)
3 cloves garlic, chopped roughly (no need to mince)
2 shallots, sliced finely
3-4 bird's eye chilli peppers, seeded and sliced
1 tbsp fish sauce, or to taste
1/2 tsp thick soysauce or substitute with dark soy sauce
1 tbsp sugar, or to taste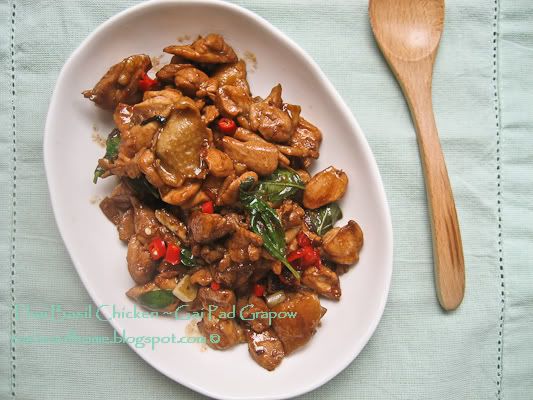 Yuen Chun thick soy sauce, indispensable in my kitchen.



Method:

1. Heat up your wok until almost smoking. Add 1 tbsp of cooking oil. Swirl to coat. Turn heat to medium and add in chicken chunks. Stir-fry till about browned on the outside (not fully cooked). Remove from wok and set aside.

2. Clean your wok. Heat up until almost smoking again. Add 1 tbsp cooking oil. Turn heat to medium and add in shallots, garlic and chillis. Fry till aromatic. Turn heat up and quickly add in chicken chunks to avoid garlic from burning.

3. Add the fish sauce, sugar and thick caramel (or dark soy) sauce. Stir chicken well to coat evenly. With a close eye on the stove, continue stir-frying until chicken is entirely cooked. Do a taste test and see if you want to add more fish sauce or sugar. Quickly add in the basil and stir well to coat. Immediately remove from heat. Serve hot with rice.