I am not a big salad person but I always make exceptions for a refreshing and tangy bowl of Thai salad. This salad is extremely simple, cucumber, carrot and shallot slivers are tossed with a tangy vinegar sauce and topped with some bird's eye chilli peppers for some characteristic Thai heat. This is great as an accompaniment to many heavier main dishes, providing a refreshing contrast especially if you serve this with fried dishes. This is another one of my instalments in my series of Yuen Chun recipes, an ongoing project on Tastes of Home.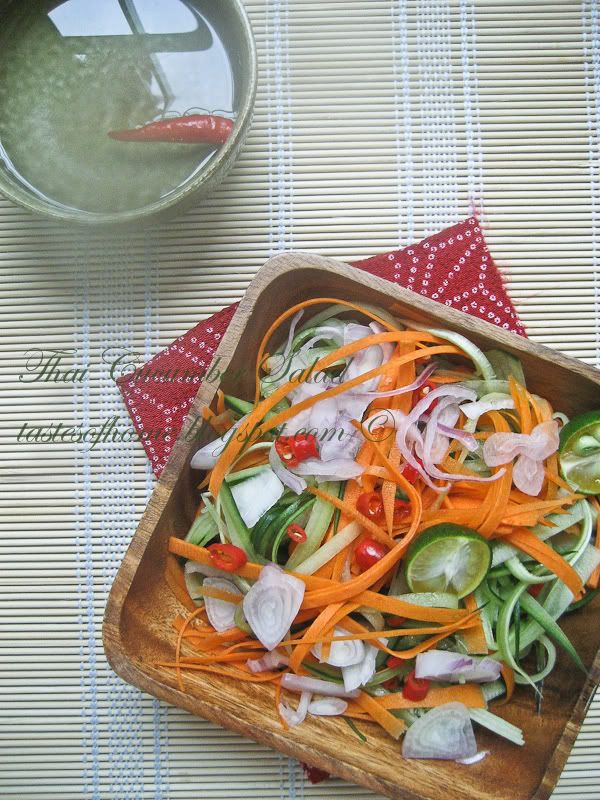 Growing up in Malaysia, I have always been fascinated with cuisine from our northern neighbour, from the famous tom yum soup to delicious pandan-wrapped chicken. I love how this salad is open to interpretation, other popular additions include papaya, green mangoes and the list goes on. Squirt a little bit of lime juice for a final tangy note right before serving- I used kalamansi limes. You can also include some ground peanuts for added crunch. For a more substantial salad, you can add in cooked shrimp or squid.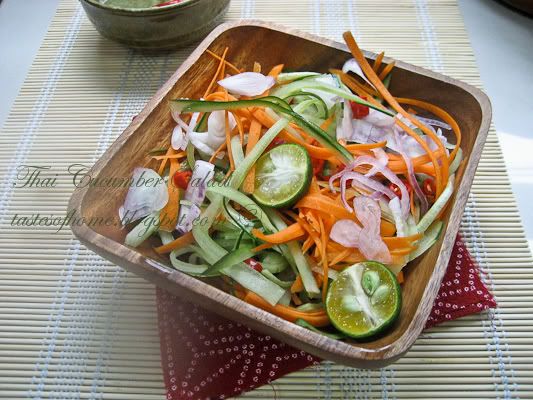 Ingredients:

2 cucumbers, slivered
1 carrot, slivered
2 bird's eye chilli peppers, sliced (seeded for less heat)
3 shallots, sliced

Dressing:

1/3 cup vinegar
6 tbsps sugar or to taste
1 tsp salt

Lime juice (optional)

Yuen Chun vinegar





Method:

Arrange the cucumber, carrot and shallot slivers in a bowl. Top with some bird's eye chilli peppers. Prepare the dressing by mixing the ingredients above until sugar is entirely dissolved. Add in the dressing and toss. Top with some lime juice (optional). Done!