I finally did it! I've been wanting to make homemade noodles for the longest time being a self-confessed noodle fiend, and today I am so pleased to present easy homemade udon noodles. I always thought homemade noodles were too fussy and too much work, well maybe they are but like a lot of homemade goodies, they were totally worth the effort and definitely rewarding. The texture of these noodles were superior to store-bought ones and also healthier as no preservatives were used and no alkaline water needs to be added. The process is pretty straightforward - basically, you add salted water to flour, knead, punch, allow to rest, roll and slice - so easy right? By the way, this helps to relieve stress too as to make sure there are no air pockets in the dough, you have to punch the dough for at least 100 times with your fist. Let's just say this was one I mean was my favourite part but I can't tell you what or who I was imagining while punching!




I served my freshly made udon noodles in some simple dashi broth accented by some crabsticks wrapped with cilantro stems. If you don't like cilantro, you can substitute with chives or mitsuba leaves which is more traditionally Japanese. As the noodles were freshly made, I purposely used simple and clean-tasting dashi broth to fully enjoy the flavour of the noodles. If this is not your cup of tea, you can try stir-frying udon like what I did in my Hong Kong soy sauce udon or if you like udon in broth but not in dashi, try my udon in chicken broth. These noodles can also be frozen and kept for later use if you think you won't be able to eat them on the same day.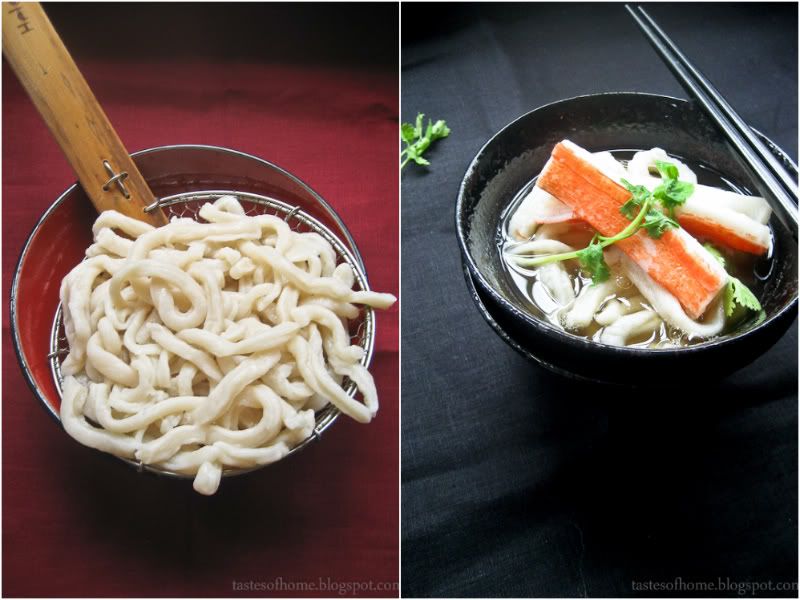 Note from Jen: Although the process is simple, do plan in advance as there is a resting time of 2 hours for the dough before it can be rolled and sliced.

I am sending this as my entry to Presto Pasta Nights created by Ruth of Once Upon A Feast and hosted by Allie of Yum In Tum for this week.





Ingredients:

For the noodles:

1 1/2 cups all-purpose flour
1/2 cup bread flour or high protein flour (I find this makes the texture springier but you can opt to use 2 cups all-purpose)
1 tbsp salt dissolved in 2/3 cup of water

To cook:

1 cup dashi broth (you can buy prepacked dashi packets at any Japanese/ Asian grocery store)
4 crabsticks
4 cilantro stems (with leaves)
Soy sauce, to taste

Method:

1. Measure and sift the flours into a large bowl. Make a well in the center and slowly pour in the salted water.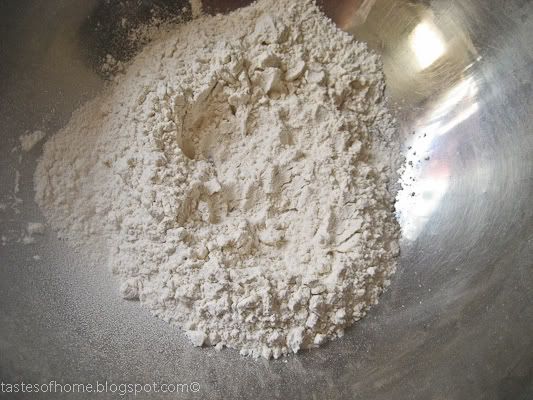 2. With a wooden spoon, gently stir to form a soft dough.




3. Turn out onto a lightly floured surface and start kneading for about 15 minutes to form a smooth dough. Punch the dough with your fist for at least 100 times to get rid of any air pockets.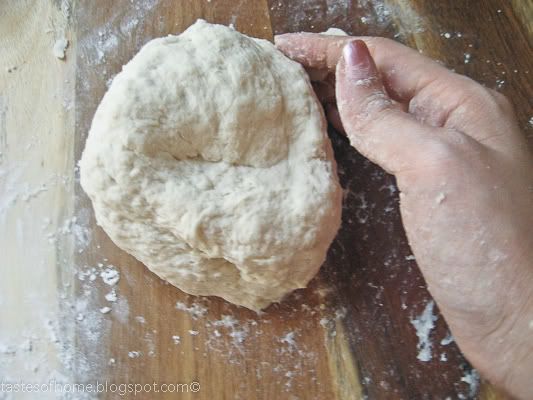 Dough, post-punching!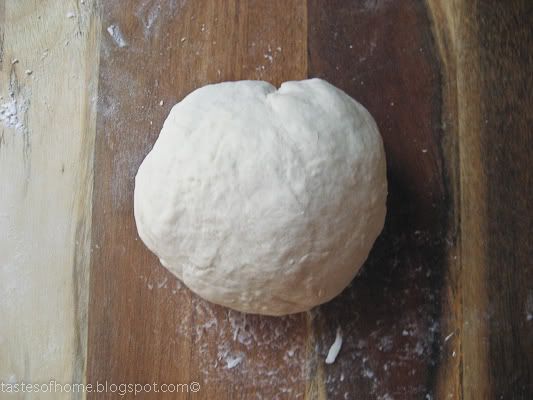 4. Place in bowl and cover with a piece of damp cloth and allow to rest for 2 hours.

5. Lightly flour your work surface again. Roll out the dough into a rectangle to about 1/8 inch thick, you don't have to be precise but approximate.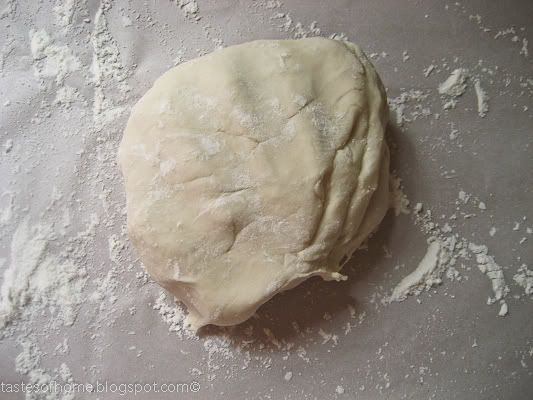 6. Prepare a large soup pot with water and bring to a boil. With a knife slice the flattened piece of dough into strips and gently separate the strands with your hands. While slicing, try not to stretch the piece of dough, you should try to do it cleanly in one or two chops for each strand.




7. Place the noodles into the boiling water. Once it boils again, add cold water and repeat this boiling and adding cold water for about 20 minutes.

8. Remove noodles from water and drain well. Use cold water to rinse the noodles to get rid of the surface starch. Drain well and set aside until you're ready to serve.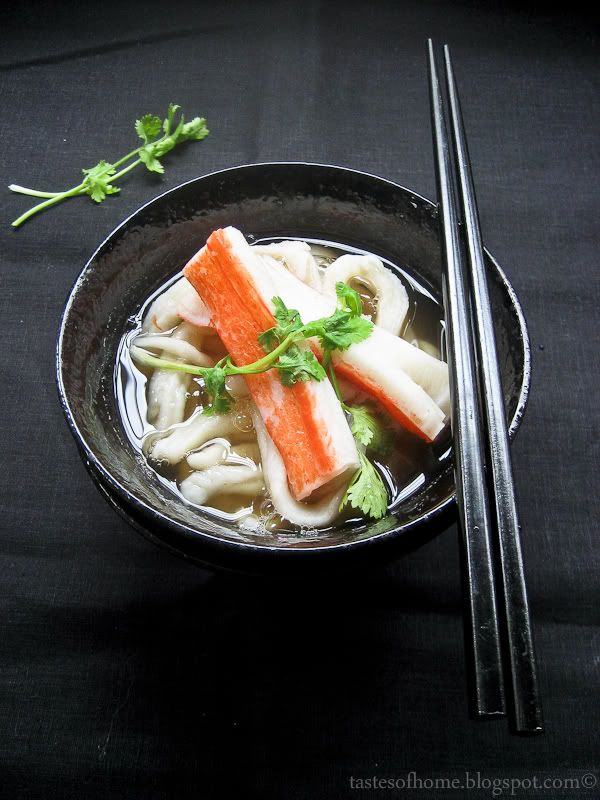 For cooking:

1. Prepare the dashi broth by dissolving the dashi powder in boiling water.

2. With your hands, gently separate the filaments on the crabsticks to create a tassel-like effect. Tie the crabsticks with the cilantro stems gently. Do not overpull as the stems will break easily.

3. Place udon noodles in serving bowls. Add 2 tied crabsticks. Gently pour enough dashi broth to barely cover the udon noodles. Serve hot with some soy sauce for guests to add.