I am in a jubilant mood today, why? I have been quite worried over the past two days as my family's beloved shih tzu, Yaki was limping just a tiny bit and I was so glad to discover that he merely sprained his leg and is now back to his bubbly (and rather mischievious) self after a visit to the vet. You know how it is when you're worried or not too happy, it shows up in your cooking or it probably even affects your desire to cook altogether. Well, today I am happy to present chicken katsu nuggets - chicken katsu or tonkatsu (pork) are usually fried and then sliced but I thought I would do something different and make miniature versions or rather little nuggets. This is an extremely easy to make dish and requires little seasoning, only salt and pepper for the chicken and of course the dipping sauce which is also very simple and consists of just worcestershire sauce, ketchup and shoyu (soy sauce).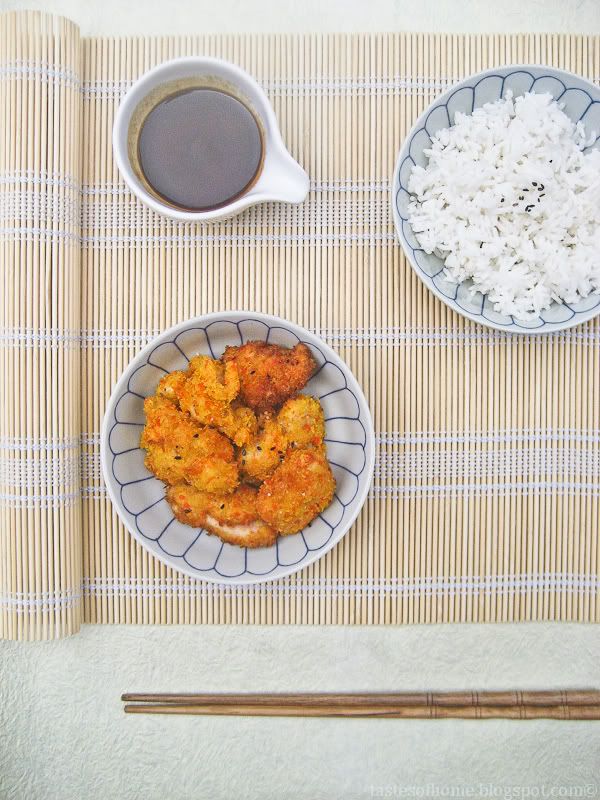 Katsu is usually served with rice and there are entire restaurants dedicated to just this dish in Japan. For my feature today, I used bright coloured breadcrumbs but you can go ahead and just use white breadcrumbs or panko. Another reason I used nuggets was because it shortens the frying time significantly and there is more crunch to each bite, albeit probably not the healthiest dish around but I felt like indulging today so there you go. Also, shredded cabbage is usually served with this crunchy fried dish but as I did not have any on hand, I garnished the chicken katsu with some toasted sesame seeds for some added crunch.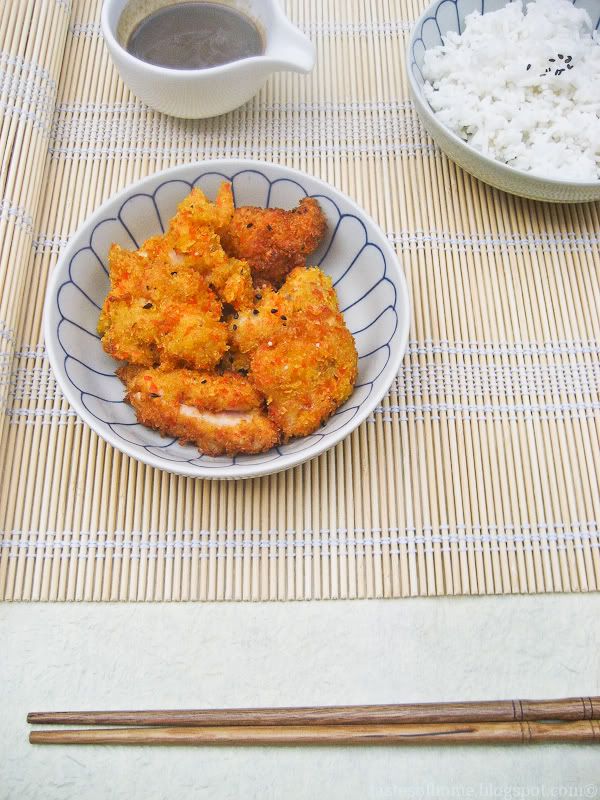 Finally, I could not resist posting this picture of a behind-the-scenes shot of my photoshoot when a cute little guest came prancing out to join me in the porch. I usually take my blog photos at a Northern window in the kitchen but the light today was pretty bad so I proceeded to the porch and of course Suki (the girl shih tzu) got a whiff of the chicken katsu and followed me out, in the hopes of possibly getting a bite or two - she did not get any by the way!

The lighting was still not very good even outside, yes I am always at the mercy of natural light!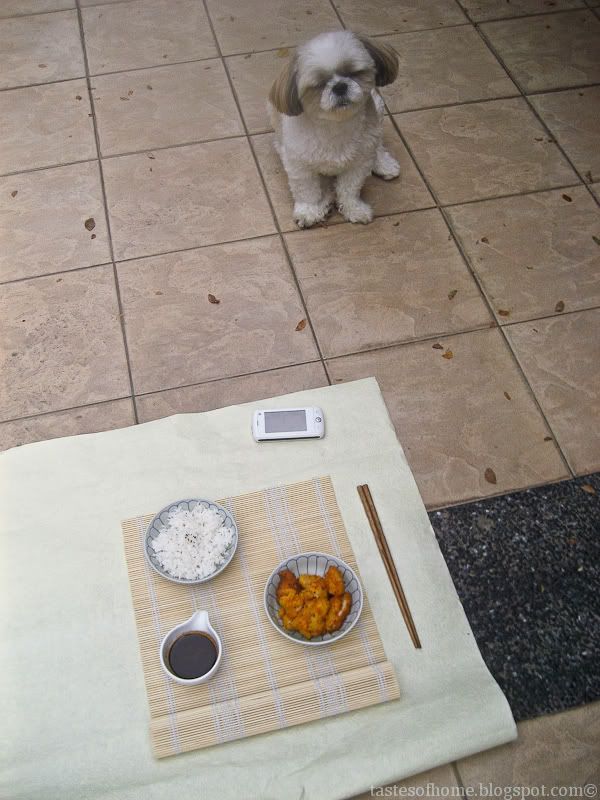 Serving suggestion: with steamed rice or as a snack

Ingredients:

2 boneless chicken thighs, cubed (about 2 inches by 2 inches) - this is only approximate
2 tsps salt
2 tsps pepper
1 egg, beaten
Flour to dust
Enough breadcrumbs to coat (about 1 cup or slightly less)
Toasted sesame seeds (for ganish -optional)

Sauce:

2 tbsps worcestershire sauce
1 tbsp ketchup
1 tsp shoyu (soy sauce)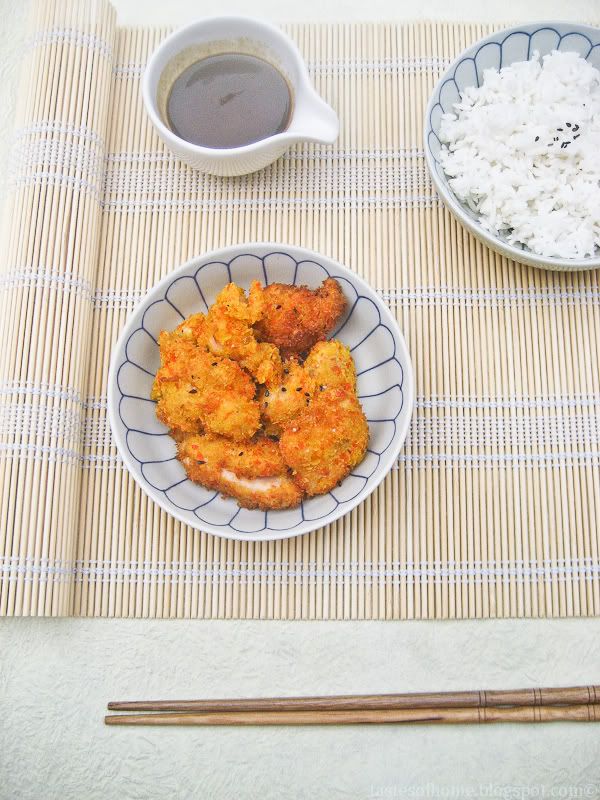 Method:

Firstly, rub the salt and pepper into the chicken and place in a bowl. Set aside.

Heat up your wok or pan for frying and add enough oil to deep-fry.

While that is heating up, prepare the egg and breadcrumbs for dipping. Once your oil is hot, turn heat to medium.

Dust the chicken pieces barely with flour and shake off excess. Dip each piece into the beaten egg then breadcrumbs and deep-fry. Repeat with remaining pieces. Drain on paper towels.

Prepare the sauce by mixing the ingredients above together. Serve the chicken nuggets with the sauce with rice or just on their own as a snack. I garnished my chicken nuggets with some toasted sesame seeds but that is optional.