When one thinks of kimchi, most of the time cabbage kimchi automatically comes to mind. However, the Koreans use a large variety of vegetables as kimchi and I still remember my surprise the first time I came across kimchi other than cabbage at a Korean grocery store a few years ago while living in the US. I had long wanted to try making my own kimchi but I do admit that the task seemed a little daunting so for today's feature I opted for a more 'beginner' kimchi of stuffed cucumber or oisobagi. This also comes at perfect timing since cucumber kimchi is a popular summer kimchi dish - the refreshing flavours and crunchy texture of cucumber are particularly appealing in the hot weather.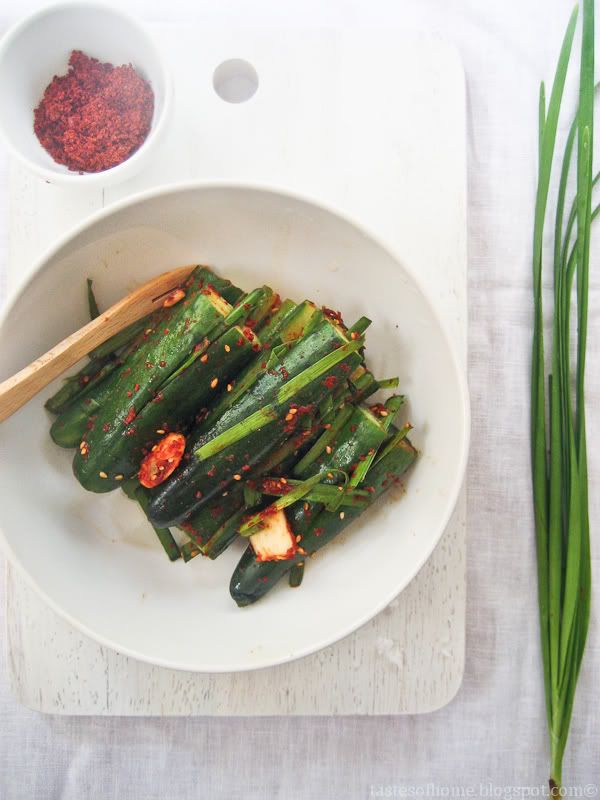 I'm sure there are many different ways of creating this dish, the method I used today is very simple where sliced green onions, chives, garlic, onions and of course gochugaru (Korean chilli flakes) are used to season the cucumber. It is best to use pickling cucumbers for this dish and not the regular (English) cucumbers as the latter have too many seeds and will not pickle well. I could not find pickling cucumbers so I used Japanese cucumbers as I was desperately wanting to eat these :O They worked pretty well as the skin is not too thick and there are not many seeds. The sour flavours will only come after fermentation (say about 10 hours in room temperature) but I like these both freshly made and fermented. These spicy cucumber pickles make a quick and healthy snack too with some rice.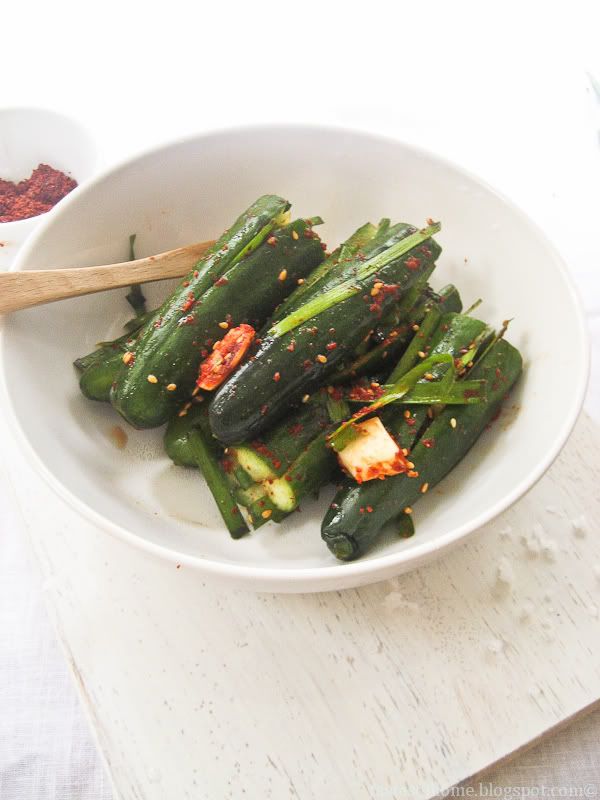 I hope you will give this a try but do note that kimchi is very much considered an acquired taste and can be a little overwhelming for the uninitiated due to the strong and pungent flavours. They can be very addictive though once you get to like them!
Serving suggestion: Usually as part of a full Korean meal or as a quick snack with rice

Recipe adapted lightly from Book of Japanese & Korean Cooking

Ingredients:

9 Japanese cucumbers or 14 pickling cucumbers
2 tbsps sea salt
1 bunch Chinese chives (these are usually sold in bunches), sliced to about 1 1/2 inches in length

Seasoning:

1/2 onion, sliced
6 stalks green onions, finely sliced
2 garlic cloves, smashed
5 tbsps +1 tbsp gochugaru
1 tbsp Thai fish sauce
2 tsp salt
1 1/2 tsps sugar
2 tsps toasted sesame seeds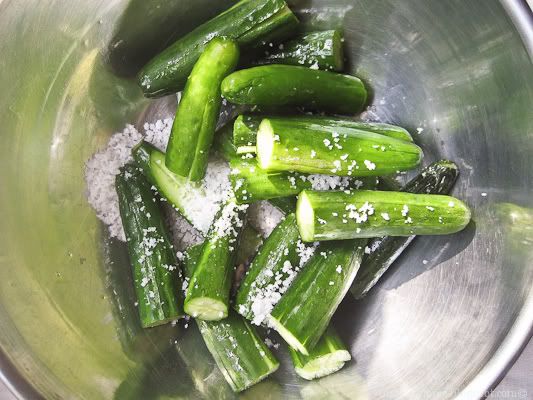 Method:

1. Firstly rinse the cucumbers well and if they are long, slice them in half.
2. With a sharp knife, carefully slice the cucumber from the top to bottom without going all the way through i.e. leave the bottom intact as we need to stuff the cucumbers. Make another similar slice to create a criss cross pattern, again without going to the way through as we need a base for stuffing.
3. Add the 2 tbsps sea salt and rub well into the cucumbers. Cover and set aside for about 1 hour.
4. After 1 hour, add the sliced chives and green onions into a large bowl. Add in the rest of the seasoning ingredients and mix well.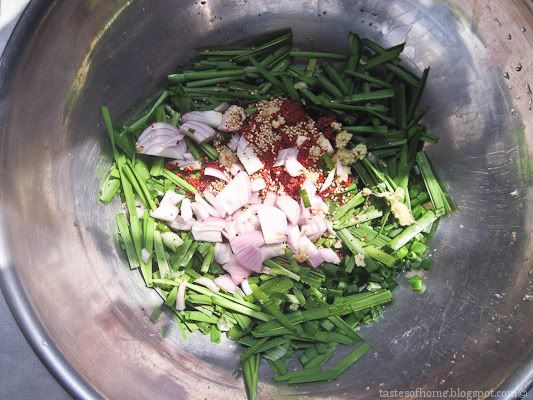 5. Rinse the salted cucumbers lightly to wash off any salt crystals. Coat the cucumbers with the 1 tbsp of gochugaru.
6. Wear some plastic or rubber gloves to protect your hands while stuffing. Stuff the coated cucumbers with the seasoning and place in an airtight container.
7. You can eat them freshly stuffed or leave to ferment in room temperature for about 12 hours. Once fermented, place in fridge and eat as and when you like. Cucumber kimchi is unlike cabbage kimchi which can be kept for months, it is best to eat cucumber kimchi within a few days of making.