Here's a classic Chinese homecooked dish with a little Malaysian twist - salt and pepper pork chops with curry leaves. Apart from the usual garlic, chilli pepper and green onion slices, I decided to add some curry leaves for an additional touch of fragrance. Salt and pepper pork chops are a perennial favourite in my household and since my brother just returned home from the UK for the summer, I was requested to cook this dish and I wanted to update the dish a little, not too much but just enough for a hint of something different. So since I have an abundance of fresh curry leaves readily available, I thought of adding some - gone are the days where I had to diligently hunt for these fragrant leaves while living in the US. However, if you live in the US or UK, I would suggest that you look for fresh curry leaves in Indian grocery stores. As their name implies, curry leaves are used heavily in the making of curries and just add a touch of unbeatable fragrance to dishes. By the way, dried ones lose most of the fragrance already and so are not recommended.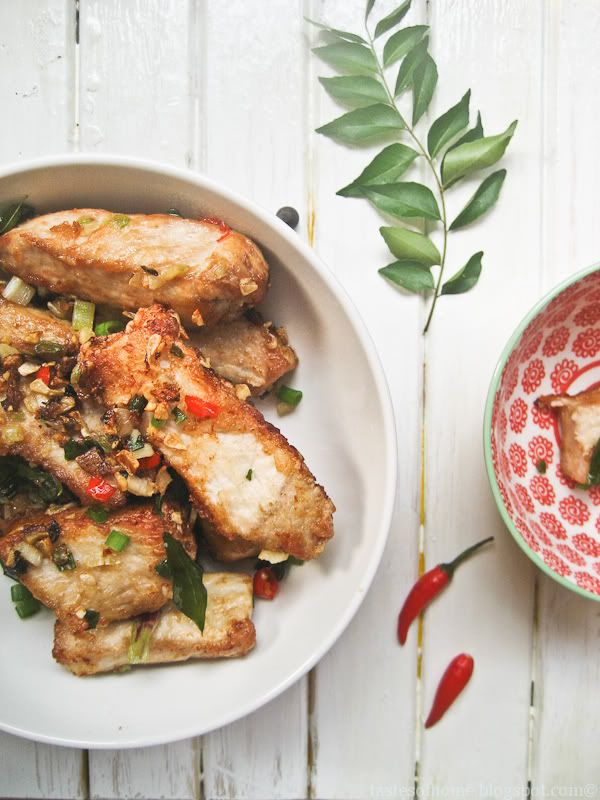 Curry leaves are used a lot in popular Malaysian dishes as well like in the ever-popular butter prawns and kam heong crabs. The potent combination of garlic, green onions, bird's eye chilli peppers and curry leaves with crispy pork chops guarantee an explosion of flavours and textures. I do hope you will give this updated homecooked dish a try as this dish is sure to please both young and old alike.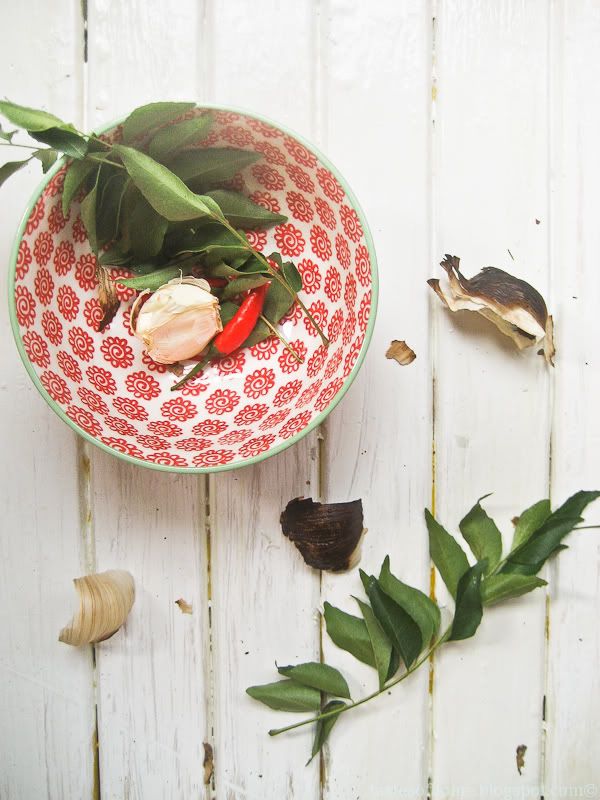 Serving suggestion: with steamed rice

Serves 4

Ingredients:

6 pork chops, each halved
Corn flour for marinating the pork chops, about 2 tbsps
6 cloves garlic, roughly minced
3 bird's eye chilli peppers, sliced
2 stalks green onions, sliced
Handful of curry leaves, rinsed (use only the leaves)
1 tbsp salt
1/2 tbsp light soy sauce or to taste




Method:

Firstly, marinate the pork chops in the corn flour or starch for about 1 hour. This helps to tenderise the meat, I would not recommend skipping this step as pork chops tend to be a little drier than other parts. Prepare a large wok or pan to shallow fry the pork chops. I used the ever-reliable double-frying method where I fried the pork chops to about 70% cooked then removed them from the oil to cool a little. Fry the pork chops again until golden brown and fully cooked the second time around.

Remove pork chops from the oil and drain on some paper towels.

Clean the wok. Heat the wok again until almost smoking. Add about 2 tbsps of oil. Once hot, turn heat to medium low and add garlic and green onions. Stir fry till aromatic. Add the chilli peppers and curry leaves. Stir fry around briskly till you can smell the fragrance of the curry leaves. Add the salt.

Turn up heat. Add in the previously fried pork chops, coating well with the mixture in the wok. Add the light soy sauce from the sides of the wok, allowing to trickle into the center. Stir fry around briskly making sure to coat the pork chops well with the mixture. Do a taste test and add more soy sauce or salt if desired.

Dish out and serve hot. Garnish with some more green onion slices if desired.