Today's feature is my version of yet another popular dish in Hong Kong's famous 'char chan tengs' (茶餐厅) - macaroni cooked simply in some broth which makes a quick and comforting breakfast option. This is a noodle dish that you can whip up pretty quickly and the accompanying ingredients are entirely up to you, whether you use ham or sausages or even spam (luncheon meat), this is another highly personalisable dish. I cooked mine in some homemade anchovy broth although chicken broth is usually what you will get if you go to one of these cafes and I added some spinach since I had some in my fridge as well. As I was feeling just a tad under the weather earlier, these really fit the bill.




If you prefer chicken broth, by all means use canned or packet versions to save time although do try to get the ones without added MSG. I did not strain the anchovy broth as we actually like eating the anchovies but if you don't, do strain the broth once. Anchovies are extremely handy to have around your pantry and they can be found in all Asian grocery stores, down the dried foods aisle. Anchovy broth is also used a lot in Korean dishes by the way. I think that macaroni in broth is one of the lighter dishes one can get at a typical char chan teng and it just goes so well with a hot cup of one of my favourite drinks ever, Hong Kong's famous 'stocking' milk tea (絲襪奶茶).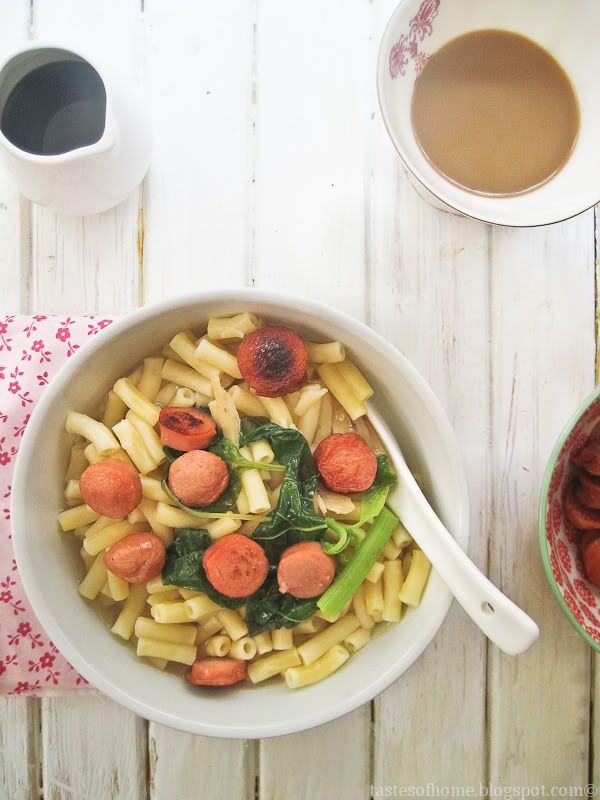 Serves 4

Ingredients:

1 cup of macaroni, cooked according to package instructions
8 sausages, sliced
1 bunch of spinach, rinsed

For broth:

1 cup dried anchovies, rinsed
6 cups water
Light soy sauce, to taste
Salt, to taste

Dash of sesame oil (optional) for finishing

Method:

Firstly, boil the macaroni till al dente. Remove and set aside.

Prepare the broth by bringing the anchovies and the water to a rapid boil. Once boiling, turn heat down and allow to simmer for about 30 minutes. Season the broth with soy sauce and salt to taste.

Fry the slices of sausages until lightly browned. Dish up and set aside.

Once you're ready to serve, add the spinach to the broth and bring to a quick boil. Spoon the prepared macaroni into individual serving bowls. Ladle the broth into the bowls and top with some sausage slices. Serve hot with some sesame oil and light soy sauce.