It's a wonder why I never thought of cooking with bow-tie pasta - they just make for such a pretty picture, don't you think? Anyways, today's feature is a very easy homemade carbonara pasta dish lightly adapted from the famous Jamie Oliver. Although I have watched his cooking shows for a long time, this is only my second time trying out his recipes and I'll have to say he did not disappoint. Before I go on and describe the recipe, if you are a carbonara purist, please consider if you want to continue reading as Jamie advocates the use of cream (yes, sacrilegious I know!) in the sauce together with the traditional egg yolks and grated parmesan cheese :O. Whenever I attempt to make carbonara from scratch at home, I do admit that I am on my highest alert in the kichen as achieving a sauce of perfect consistency and gloss can be rather tricky, you'll have to time the boiling of the pasta, preparation of the sauce and the frying of the bacon pretty closely but I think the addition of the double cream probably helped make the task easier this time around.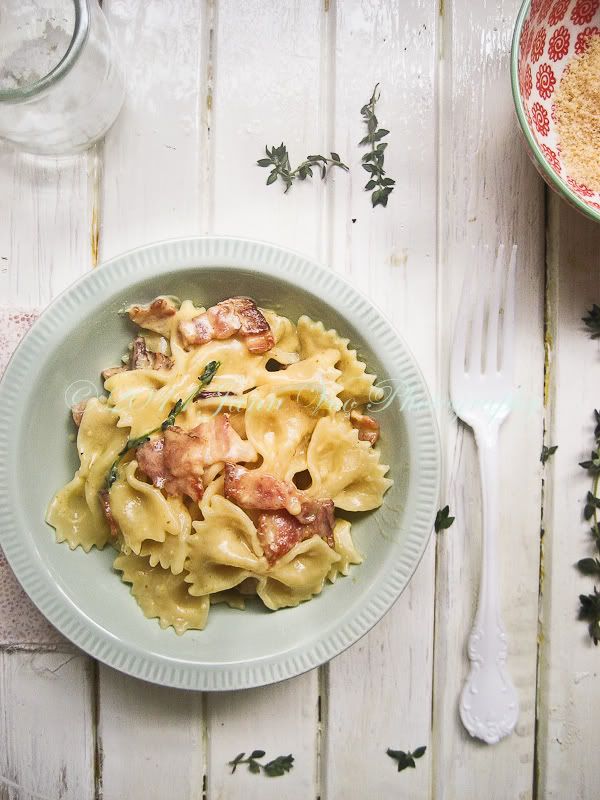 I really liked the consistency and shine of the sauce while the sweet thyme provided an additional fragrance. I used streaky bacon instead of pancetta and I could not help but drain most of the bacon oil away before mixing in the pasta although Jamie advocates to mix the pasta right in with all the oil. That may probably have been over-greasy for me, just one or two tablespoons of oil left in the pan were more than enough to 'perfume' the pasta with the fragrant thyme and smoky bacon flavours,. This is a quick and easy answer to homemade carbonara and should be treated as such, 'authentic' probably not but most importantly, it was delicious and I'm glad my guests agreed...phew!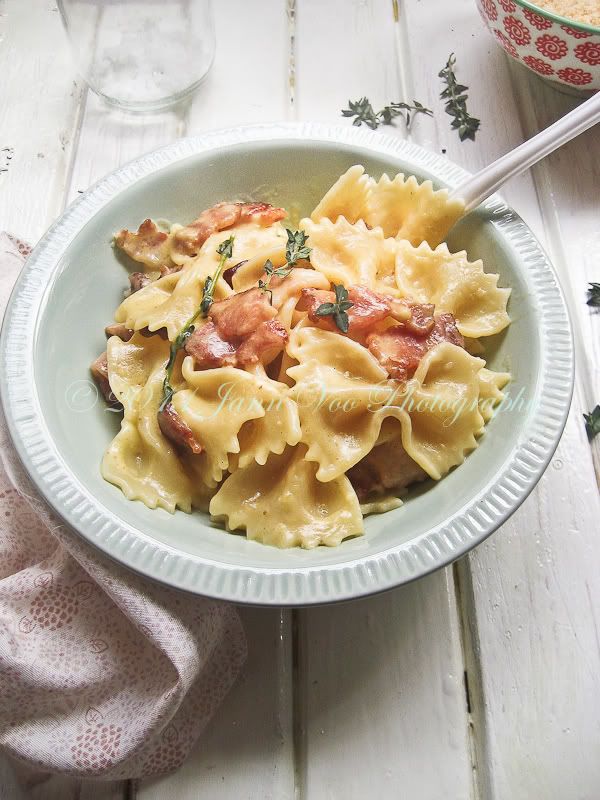 Thank Jamie!

Recipe lightly adapted from Jamie Oliver

Ingredients:

500g of bow-tie pasta
10 pieces streaky bacon, cut into chunks
Bunch of fresh sweet thyme (or substitute with thyme, rosemary etc)
100ml cream
4 egg yolks
3 tbsps freshly grated parmesan cheese
Salt, to taste
Freshly grind black pepper, to taste

Method:

Firstly, boil a large pot of salted water (about 1 tbsp of salt), once boiling rapidly, add pasta to cook according to package directions until al dente. This usually takes about 3-4 minutes for me so please adjust accordingly as the bacon will take about 2 minutes to fry.

While the pasta is cooking, take a quick minute to mix the egg yolks, cheese and cream together in a separate bowl. Season with 1-2 tsps of salt. Set aside.

Start frying the bacon in a large enough pan as you will use this same pan to toss the pasta so make sure it is not too shallow. Once the bacon is crisping up, add a handful of sweet thyme leaves and some freshly grind black pepper. Drain the bacon of most of the oil and save about 1-2 tbsps in the pan.

The pasta should be done by now. Drain and reserve about 1-2 tbsps of the pasta water. Add the pasta into the pan with the bacon and thyme and give it a quick toss. Turn off heat.

Place the pan on the counter or work surface. Quickly add in the sauce from earlier and toss well to combine. Add a bit of the reserved cooking liquid if necessary. Add in some more cheese if desired as well.

Once tossed, serve immediately with more salt and black pepper on the side for your guests to add if they wish.