A little reminder: Please don't forget to enter my GIVEAWAY for "The Breath of a Wok" cookbook to celebrate my recent move and change of name to Smoky Wok. :O


If you have been following this blog for a while, you may notice that I am a huge fan of baking using the Japanese 'tangzhong' method. This is always a guaranteed method for producing 'pillowy' soft and extra fluffy homemade bread. There are so many ways you can use this method in your baking and if you have to yet to try this method, I'll recommend for you to try it as soon as you can especially if you've got a craving for Japanese/Asian style buns and there's a lack of a good Asian bakery around you. I can only say that I wish I 'discovered' this method earlier while I was living in the US as living in San Diego, there is really a lack of good Asian bakeries. Although I am now back in Malaysia, and there are Asian bakeries galore- there is still nothing like the smell of homemade bread in your kitchen and not to mention the blissful satisfaction you get when your baking endeavours produce such soft, fluffy and just utterly delicious bread. For this, I'll have to thank Christine of Christine's Recipes for her lovely posts on this method that really inspired me to try this method of baking bread at home.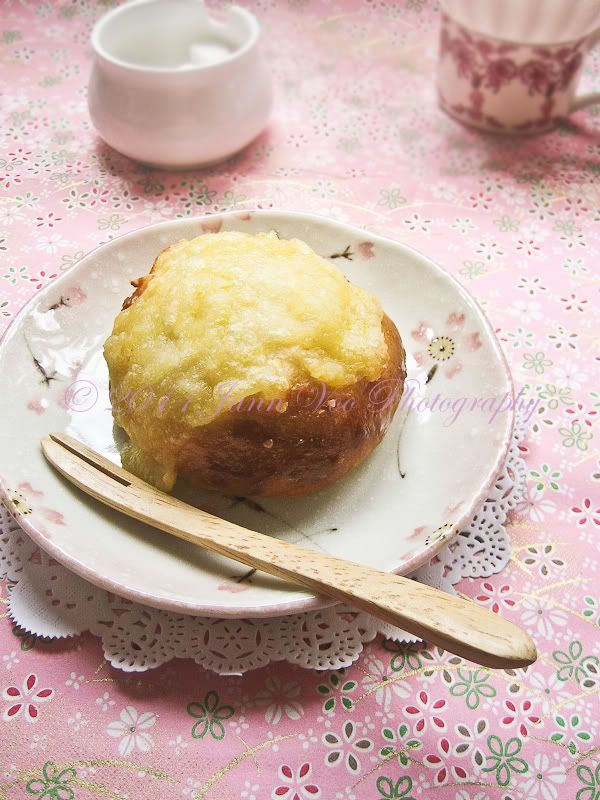 For today's feature, I made some simple sugary cheese buns, the sweet and slightly savoury flavours from the cheese were perfect together while the fluffy, pillowy tangzhong bread provided the ultimate 'base' so to speak. If you are a bread-making newbie, do not fret - I used to be one too, not that long ago in fact and if I could produce such bread (by hand, mind you) seriously, anyone can. It is not a difficult process at all though it may be a little time-consuming as you will have to prepare the starter (I usually leave it overnight to use the next morning) and if like me, you are not using a bread machine, the kneading part may be a little messy. I may be a little weird but I actually relish and enjoy the kneading process as I find it rather therapeutic. Also, keep in mind that there will be 2 rounds of proofing required and 1 shorter resting time for the dough so as you can see, patience will be a virtue.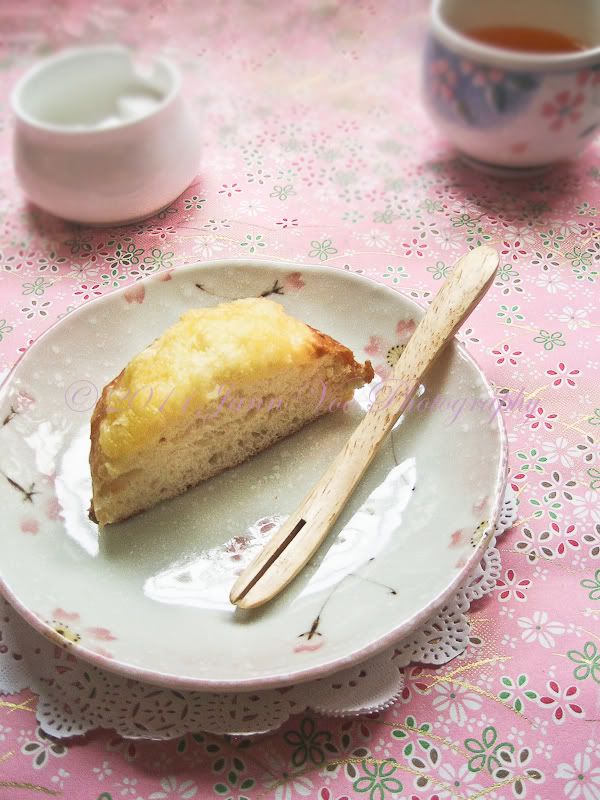 I promise you that the results will be more than worth it - you'll know what I'm talking about when you sink your teeth into the delightfully fluffy buns you just took out of your oven! :O

I am also sending this post as an entry to the weekly Yeastspotting event hosted by Susan of Wild Yeast Blog.


Recipe adapted from Christine's Recipes

Ingredients:

For the Starter:

1/3 cup bread flour (high protein) flour
1 cup water (room temperature)

For the Bread:

2 1/2 cups bread flour + more for dusting while kneading
3 tbsps + 2 tsps sugar
1 tsp salt
1 large egg, room temperature preferred
1/2 cup milk
1 tbsp milk powder
2 tsp yeast
3 tbsps butter
1/2 of the starter above

Topping:

About 3 tbsps of white granulated sugar
1/2 cup grated cheese (I used mozzarella)

1 egg, beaten for brushing

Notes from Jen:

1. Before using the yeast in your dough, I suggest that you dissolve a small bit in some water and sugar to make sure the yeast froths up (still alive) just in case, especially if your yeast has been sitting around for a while.

2. This starter requires an overnight waiting time so do plan accordingly.


Method:

For starter:

1. Prepare the starter by mixing the bread flour with the water in a small pot well. Make sure there are no lumps.

2. Cook over medium heat while stirring all the time with a wooden spoon until mixture thickens up, the starter is ready when the stirring action with your spoon creates little 'lines' on the mixture. The consistency will be like glue.

3. Remove from heat and spoon into a bowl. Cover with a piece of cling wrap with the wrap touching the top of the tangzhong, this is to avoid a 'skin' from forming. Allow to cool to room temperature then place in fridge.

Bread:

1. Remove tangzhong from fridge. Mix the dry ingredients together i.e. the bread flour, yeast, sugar, salt and milk powder in a large bowl.

2. Whisk the wet ingredients i.e. the egg, milk and tangzhong in a medium sized bowl. Create a well in the middle of the dry ingredients and pour in the egg mixture. Mix with a wooden spoon until you see the beginnings of a formation of dough.

3. With your hands, start kneading until the dough takes more shape. Add in the butter and continue kneading, dusting with extra flour as required. You would probably need to knead the dough for about 15 minutes at least until the dough is smooth and elastic. Make sure that the dough is not sticky.

4. Place dough in a well greased bowl and cover with a wet kitchen towel or cloth. Allow to proof for about 1 hour, or until doubled in size. The duration of time needed for proofing will differ according to the weather, the hotter and more humid the weather, the faster it should take to proof.

5. After the dough has doubled, remove from bowl and place on a well floured surface. Punch the dough down and knead again slightly for about 3 minutes. Divide the dough into 8 roughly equal pieces. Shape each portion into a ball.

6. Cover the dough balls with cling wrap and allow to rest for about 15 minutes.

7. Take a dough ball and flatten with a small rolling pin. Roll up from top to bottom. Flatten again with a rolling pin and shape into a ball. Repeat with the rest of the balls.

8. Prepare a greased baking tray. Take each ball and flatten each ball. Add the cheese and sprinkle the sugar on top in the center of each flattened ball. Place on baking tray. Allow to proof again for another 40 minutes.

9. Pre-heat your oven to about 180 C and prepare a rack in the middle of the oven.

10. Brush some egg wash on top of the buns. Bake for about 30-40 minutes or until the buns turn golden brown. You can serve these warm from the oven, if not, allow to cool to room temperature on a wire rack and place in an airtight container. These can keep for a few days, longer in the fridge.