Sometimes you just want something fast, fresh and easy don't you? I love noodles although I admit that most of the time noodles don't not make the lightest meals. Soba or buckwheat noodles are one of the exceptions, these incredibly good-for-you noodles make refreshing yet satisfying meals and are delicious dressed simply in some soy sauce and mirin. I came up with today's feature as I was craving for a light lunch and soba seemed like the perfect answer. The soba was simply tossed in a savoury dressing of light soy sauce, mirin and then brightened up with some squirts of fresh lemon juice. If you don't like smoked salmon, you can skip them and substitute with some tofu for a vegetarian dish. As the smoked salmon is already salty, I did not add salt to the noodles and I used the soy sauce sparingly so do adjust the dressing accordingly if you decide to skip the smoked salmon.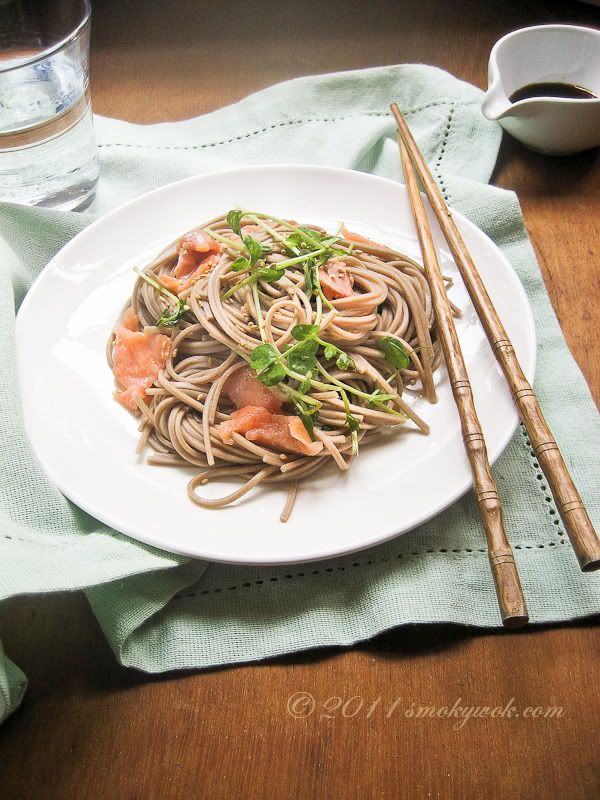 I love cooking but sometimes easy dishes like today's feature are incredibly welcome The only time you need to spend at the stove is for the boiling of the noodles and with minimal prepping, this dish was finished in under 15 minutes - perfect on a lazy Saturday afternoon.
Serves 1
Ingredients:
1 bundle of soba (buckwheat) noodles (usually sold in 3 bundles per package)
8 slices of smoked salmon (about 3 inches by 1 inch) but you can add more or less depending on your preference
Handful of alfalfa sprouts (substitute with 1 stalk green onion, sliced if you wish)
1 tsp toasted sesame seeds (optional)
Dressing:
1 1/2 tsps light soy sauce or to taste
1 tbsp mirin
1/2 tsp sesame oil

1 tsp fresh lemon juice


Method:
Firstly, boil the soba noodles according to package instructions. Once soft, remove from heat, drain and rinse noodles with cold running water. Drain well and set aside.
Mix the dressing together in a bowl. Add the noodles, smoked salmon and sprouts into the bowl and toss well to mix. Arrange noodles on serving dish and top with some toasted sesame seeds if using. Add some squirts of fresh lemon juice right before eating.
These noodles are delicious served either warm or cold.