Teochew or Chiu Chou cuisine offers a lot of healthy steamed, stir-fried and braised dishes. Seafood is featured heavily as it is a coastal region and one of my favourite methods of eating crabs is the famous Teochew Cold Crabs which I shall attempt one day at home. Today's feature is steamed pomfret Teochew style which differs from the usual Cantonese style steamed fish one sees in a lot Chinese restaurants. Fish is steamed with tomatoes, salted plums, salted vegetables, chilli peppers, ginger and green onions (mushroom slices can be added as well) so the flavours are savoury, sour, spicy and altogether very appetising. The resulting dish is also more watery than the Cantonese version where fish is steamed with ginger and green onions and then a soy-based sauce is made separately for pouring over the fish right after the fish is steamed.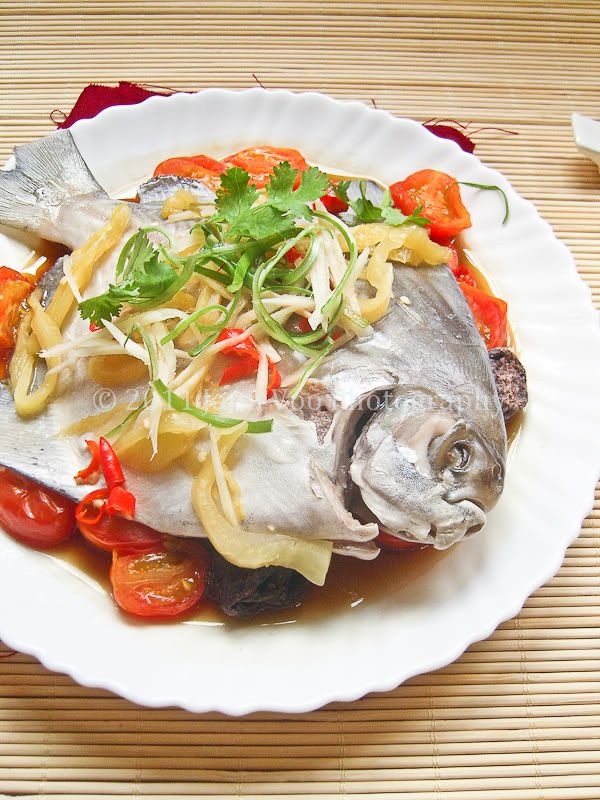 Although I am a big fan of the Cantonese style of steaming, it is nice to have an alternative sometimes. Most recipes call for simply steaming the fish together with the vegetables until cooked, I added an extra step on mum's suggestion by steaming the fish lightly with the ginger and green onions first, then discarding the liquid and then adding all the other vegetables for steaming until cooked. I find that this removes any fishiness from the fish, perhaps this is an influence from my usual Cantonese steamed fish as the liquid from the steaming of the fish is discarded. Then, again this is just my personal preference. All in all, this is an easy, quick and healthy way of cooking fish and I hope you'll give this a try soon.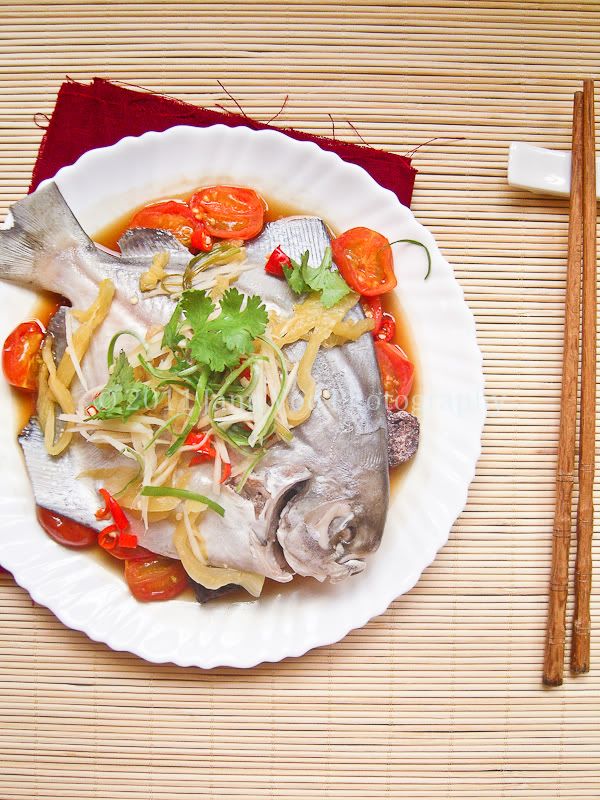 Serves 4 and best served with steamed rice

Ingredients:

1 medium-sized pomfret (about 300g) - you can substitute with other white fleshed fish suitable for steaming, lightly rubbed with corn starch
4 plum tomatoes or 2 regular tomatoes, halved for plum and sliced into quarters for regular
1/2 cup worth of salted vegetables (rinsed and soaked for about 20 minutes), drained
2 salted plums, rinsed (you can get these at all Asian grocery stores) - either dried or sold in jars
4 slices of ginger for steaming, and slivers for garnish
2 stalks green onions for steaming, and 1 stalk (slivered) for garnish, or simply cut the green part with a pair of scissors into tiny slices
2 bird's eye chilli peppers, sliced (or substitute with red chilli pepper slices)
4 tbsps water
1 tbsp cooking oil
1/2 tbsp light soy sauce
1 tsp Chinese rice wine

Method:

Firstly, place the 2 slices of ginger and 1 stalk of green onion on a steaming plate. Lay the fish on top. Prepare a wok for steaming. Make sure the water is boiling rapidly before you place the fish in the wok.

Steam lightly for about 3 minutes. Remove and discard the liquids. Now on another plate that you will be using also for serving, place the remaining ginger, green onion stalk and the rest of the vegetables (tomatoes, salted vegetables, salted plums, chilli peppers) on the plate. Lay the fish on top and scatter some of the vegetables you placed on the plate on top and around the fish. Add the soy sauce, oil and water. Add rice wine.

Steam again until fully cooked, with a medium-sized fish, this should take no more than 10 minutes. Do not oversteam to avoid the fish getting too tough. Remove from wok and garnish with the ginger and green onion slivers. Serve immediately.