Today's feature is a simple and popular dish, deep-fried pork chops cooked with red chilli peppers and lots of garlic! This is quite a fiery dish, but if you prefer your dish to be a little less spicy, just remember to remove the seeds of the chillis and soak in water for a bit before cooking. I seem to always have trouble thinking up ways to cook pork chops, so after looking at the pork chops sitting forlornly in my freezer for quite a while, I decided to just use this trusty recipe. Unfortunately, I ran out of green onions, you can add some green onions for more fragrance and colour to the dish. This dish is also quite suitable for Chinese New Year with the red from the chilli peppers and the gold from the golden brown pork chops!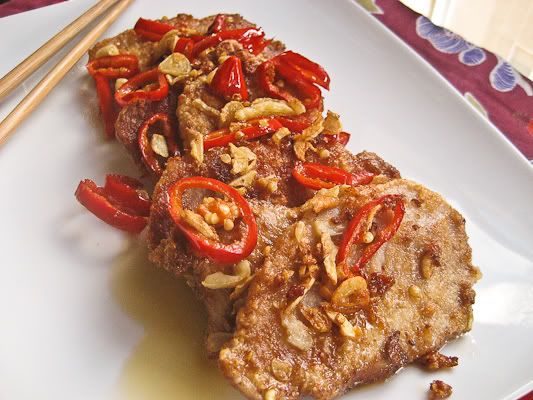 You can also opt to use this recipe for chicken wings, squid or shrimp. Perhaps shrimp might be a better feature since it's still Chinese New Year! The Chinese people are strong advocates of adhering meanings to dishes especially during this time of the year, hence shrimp or prawns are always almost present on Chinese dining tables during the very important reunion dinner on New Year's eve. This is because the Chinese pronounciation for prawns is 'Ha', hence signifying laughter - an auspicious way of ringing in the new year with peals of laughter. Anyway, back to my feature today, the strong flavours of the garlic is intensified by the spiciness from the chilli peppers, making this a very appetising dish as well. This dish requires very few ingredients and is a staple 'tip tau fan' (Cantonese) translating loosely to one-plate rice in Hong Kong.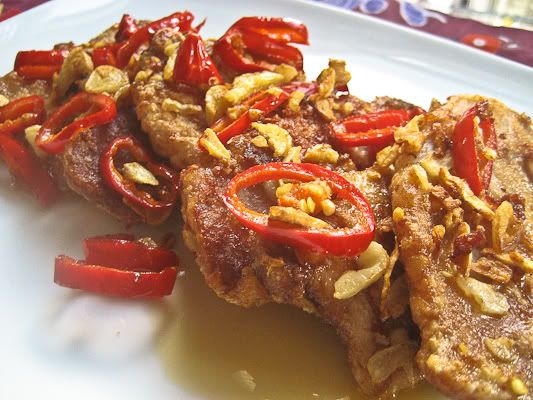 Ingredients:

8 thin pork chops (small ones), coat lightly with corn flour
5 cloves garlic, minced or sliced
4 red chilli peppers, sliced (you can also use bird's eye chilli peppers)
Dash of light soy sauce to season the pork chops
Salt to taste
Dash of pepper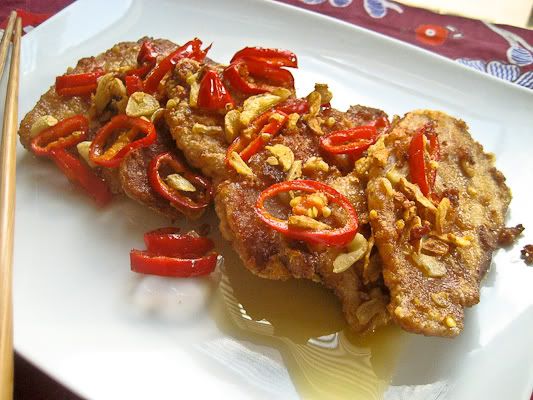 Method:

First, add a dash of soy to the pork chops. Next, coat lightly in corn flour and fry on medium heat until golden brown and slightly crispy. Thin pork chops really work best. I fried the pork chops for about 15 minutes, turning once or twice. As the pork chops are frying, prepare the garlic and chilli peppers.

Once the pork chops are cooked and turn golden brown, remove from oil and drain on some paper towels. Now, remove the oil from the wok, leaving about 1 tbsp in the wok. Turn the heat to low, slowly add the chopped garlic and chilli peppers into the oil. Fry till fragrant. Add about 1 tsp of salt or to taste - remember you can add more salt later if the pork chops are not salty enough. Finally, add back the fried pork chops and coat evenly with the chilli peppers and garlic. Serve hot with rice or noodles.