Today's feature is a Sichuan classic, the famous Ma Po Dofu (Tofu) or 麻婆豆腐. As with so many classic dishes, culinary records can be sketchy and there are a few stories on how this spicy beancurd dish came about. A popular tale on how this dish came about was that the tofu dish was sold by a lady with pockmarks on her face hence 麻婆, literally translated from Chinese, the dish means "Pock-marked Lady's Tofu". As with most Sichuan dishes, ma po dofu is packed with heat, both the more 'conventional' heat of spiciness from chilli peppers and another uniquely Sichuanese heat, a numbing heat that comes from the Sichuan peppercorns used. As many lovers of Sichuan food will tell you, the numbing effect is what makes the dish so special and it's a pleasure in itself just with the pleasantly numbing effect. However, if you're not used to 'true' Sichuan cooking, it may take some getting used to.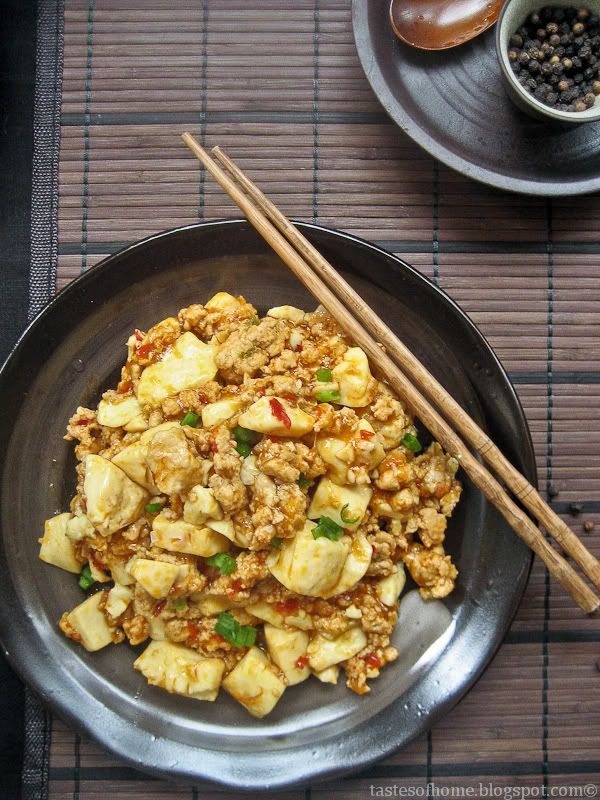 Cubed tofu cooked together with pan-fried meat in a spicy and earthy sauce made mostly of daobanjiang (spicy bean paste) and fermented black beans, the dish combines fiery flavours as is typical of Sichuan cuisine. The former is indispensable in Sichuan cooking and is a little reminiscent of Korea's famous condiment, gochujang due to both condiments containing fermented beans but I think gochujang is a little earthier while daobanjiang tastes sharper. All in all, an extremely simple dish to whip up - if you don't think you will enjoy the numbing effect, by all means go ahead and skip the Sichuan peppercorns although I would try it at least once before deciding.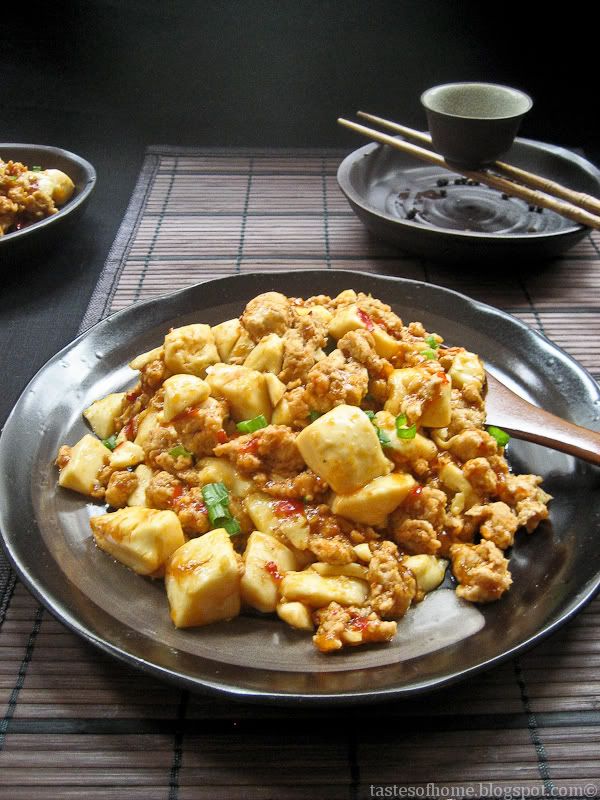 Sichuan dishes are traditionally packed with heat as the Sichuan climate can be extremely hot and humid, the heat serves to eradicate 'wetness' in one's body and help to balance one's equilibrium. Little wonder then that a lot of Malaysian and other South East Asian dishes are also typically spicy.


* Best served with hot steamed rice.

Recipe adapted from Fuchsia Dunlop

Ingredients:

1 block tofu (approximately 500g in total), cubed - I used egg tofu which is what I prefer although traditionally white tofu is used, choose according to what you prefer
3 stalks green onions, sliced (save the green parts for garnish)
2 cloves garlic, minced roughly
2 tbsp cooking oil
1/2 pound minced chicken, pork or beef
2 tsps ground toasted Sichuan peppercorns
1 cup chicken stock
1 tsp sugar or to taste
1 tbsp light soy sauce or to taste
3 tbsps daobanjiang (chilli bean paste)
2 tbsps potato flour mixed with 3 tbsps water (use corn starch if not available, potato starch makes the dish glossier)

Note from Jen: Daobanjiang and fermented black beans are already salty so be mindful of this while adding the light soy sauce to season the dish.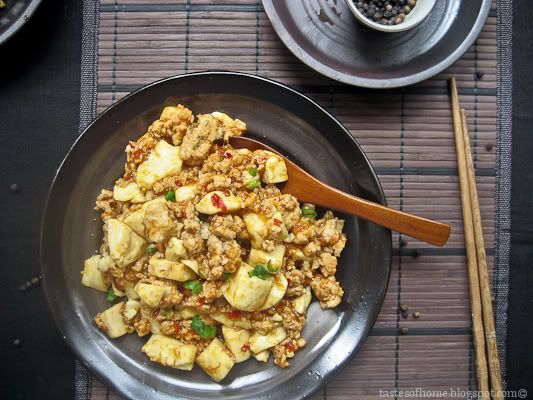 Method:

Bring a wok of lightly salted water to a boil. Gently place the cubed tofu into the water and turn heat down to medium and allow to simmer for about 2 minutes. Remove tofu and drain. Set aside.

Heat your wok until almost smoking. Add 2 tbsps cooking oil. Turn heat to medium-low and quickly add in the garlic and green onion slices. Stir around to avoid burning and add in the minced chicken or the meat of your choice. Turn heat up and stir around till lightly browned.

Add in the daobanjiang and black beans and stir chicken well to mix. Stir-fry for about 30 seconds on high heat. This gives the dish the essential 'wok hei' or wok's breath.

Add in the drained tofu gently to avoid breaking and pour in the chicken stock. Mix the tofu gently with the chicken by using a very light hand. Do a taste test and add sugar and light soy sauce. Do another taste test and add more if desired. Turn heat to medium-low and allow to simmer for about 8 minutes.

While the tofu is simmering, prepare the potato starch mixture. Add in the starch tablespoon by tablespoon, while mixing well. Once you see the sauce thickening and the tofu appearing glossier, turn off heat and dish out. Garnish with some green onions and add another sprinkling of ground Sichuan pepper if desired. Serve hot.