Allow me to present Sichuan's famous 'dan dan mian' from my kitchen today - these noodles are one of the spicy province's famous street foods as we can see from its' namesake, 'dan dan' refers to how the noodles were carried in the past i.e. the street peddler carried two pots, one on each end of a bamboo pole over his shoulder - one pot filled with noodles and the other with the sauce. Dan dan mian is essentially wheat noodles topped with a spicy pork and Sichuan vegetable mixture with varying amounts of broth depending on who is making the noodles. I prefer my noodles with less broth so that's what I did when I adapted Cecilia Chiang's recipe from 'The Seventh Daughter' which is one of my favourite cookbooks not only for the recipes but I also love how she shared her fascinating adventures on her journey from Beijing to San Francisco, both in the culinary and non-culinary sense. As always, you can adjust the level of spiciness depending on your tolerance level - it is also customary to serve the noodles with a generous sprinkling of ground Sichuan pepper which produces a numbing heat that many find appetising.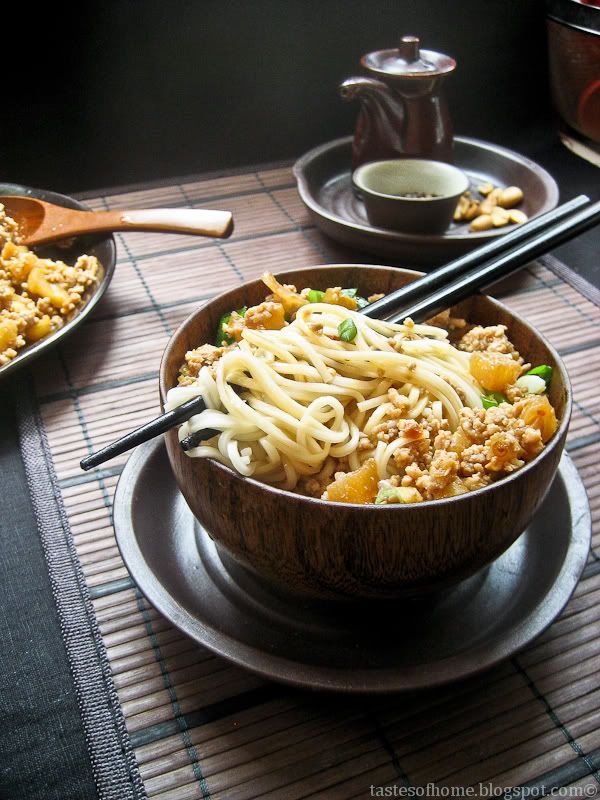 This recipe does not contain sesame paste or peanut butter, a garnish of crushed peanuts is used instead. The flavours of these catchy-sounding noodles are spicy, salty, earthy, a little smoky from the black vinegar and altogether very satisfying. I like to use the 'LaoGanMa' brand for my chilli oil in Sichuan dishes and I highly recommend it - it contains chilli, Sichuan chilli peppercorns, chicken (yes there was a chicken bone in the jar) and vegetable oil. Totally worth it to hunt this down as it definitely gives a deeper dimension to the dish - you can find this brand in most Asian grocery stores.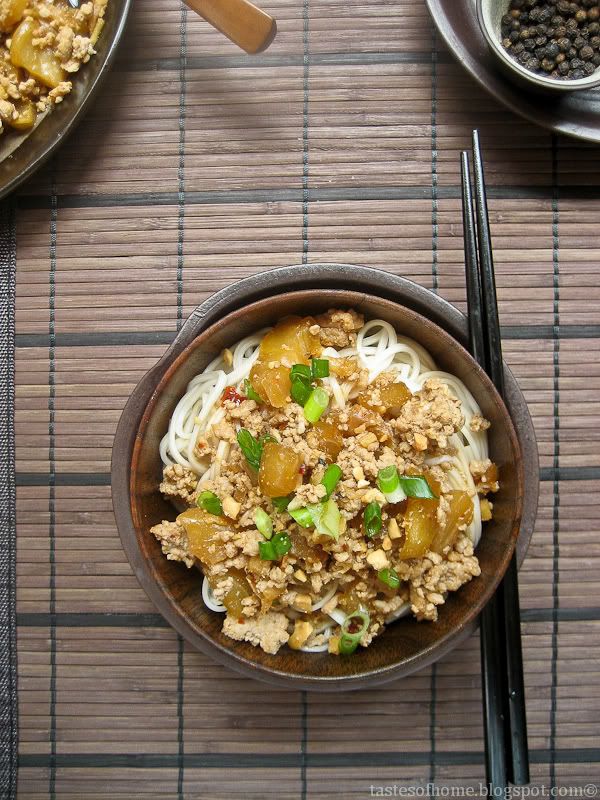 Note from Jen: I received some questions from readers residing in the US on which Asian grocery stores to go to, and as I lived in Southern California for a few years, I usually frequented Ranch 99 for my Chinese grocery needs but most of the ingredients I use can be found in most Asian grocery stores including the hole-in-wall kinds. If you still can't find the ingredient, please let me know and I will try to suggest a suitable alternative.
This feature is a part of my series in my
recipes for Yuen Chun
, my preferred brand for Asian cooking sauces.
Recipe adapted from
The Seventh Daughter
by Cecilia Chiang
Serves 4 generously
Ingredients:
1 packet of dried wheat noodles (I used Shanghai wheat noodles)
For the sauce:
1 pound of minced pork (not as fine as ground pork although the latter can be used too)
1 palm-sized Sichuan preserved vegetable (Zha Chai), rinsed and cubed
3 tbsps minced ginger
3 tbsps minced garlic
3 stalks green onions, sliced, save some green parts for garnish
3 tbsps Chinese Shaoxing Wine
1 cup chicken broth (canned one is fine)
As requested by some of you, here's a photo of the 'Laoganma' Chilli Oil that I used (I used chicken flavour)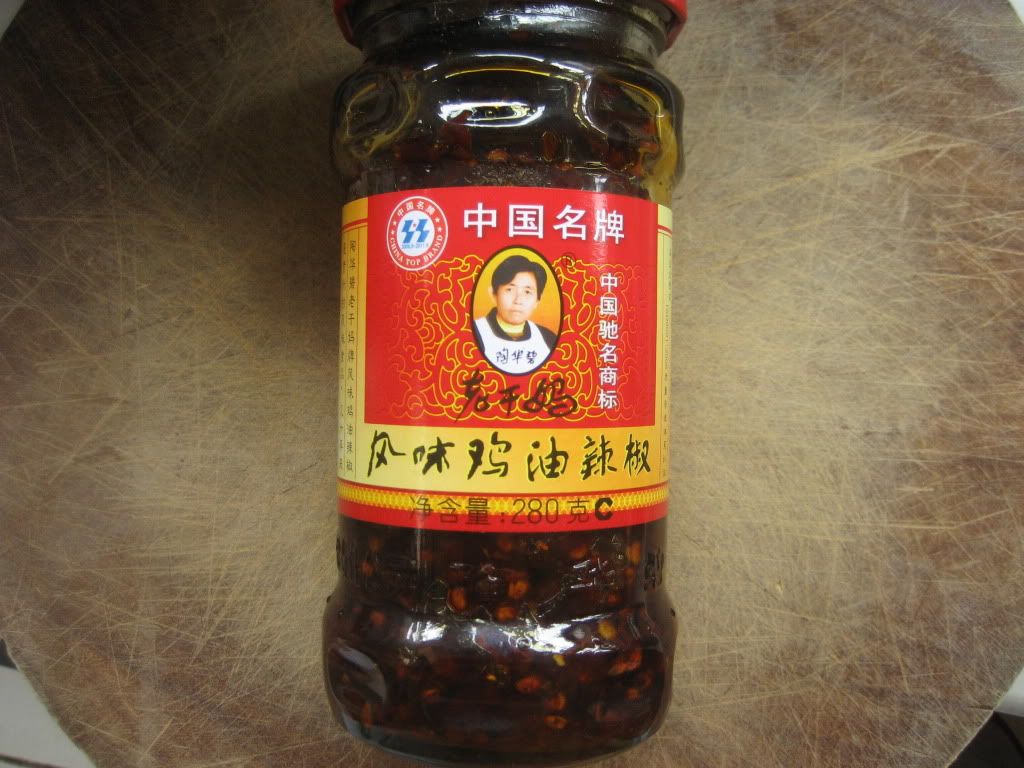 Seasoning:
Note from Jen: As I am used to cooking Chinese dishes, I add my seasoning as I cook as I just somehow know how much I should add, but it will be easier if you mix the seasoning ingredients below in a separate bowl and do a taste test before adding to the pork mixture. However, once the pork is cooked do another taste test to be safe.
3 tbsps chilli oil (I used 'Laoganma'), or to taste (good idea to serve some at the table for high spicy-tolerance guests to add to their noodles if they wish)
1 tbsp
Yuen Chun
spiced vinegar (black vinegar)
2 tbsps light soy sauce
1/2 tbsp dark soy sauce (more for the colour)
1 tsp sugar (to balance out the flavours but there will be no pronounced sweetness in the dish)

Garnish:
Crushed roasted peanuts (for garnish)
Sprinkling of ground Sichuan peppercorns (optional)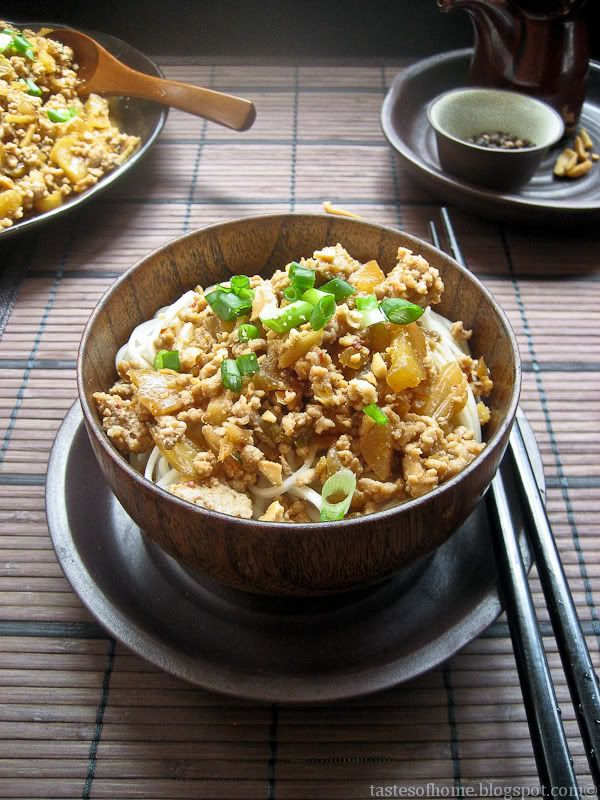 Method:
Firstly, prepare the sauce. Usually I would prepare the noodles first but since the sauce takes a while to make and you don't want the noodles to go too cold (these wheat noodles will lump together easily once cold), I suggest making the sauce first then the noodles as these kind of noodles cook very quickly.
As always, try to use a Chinese wok especially for Sichuan dishes that taste infinitely better with the requisite 'wok hei' or wok's breath. Heat up the wok until almost smoking. Add about 2 tbsps of cooking oil and swirl around to coat well. Turn the heat to medium and quickly add in the minced garlic, minced ginger and green onions. Stir around quickly until aromatic, add in the pork and stir fry the pork until it browns a little.
Turn heat high again. Add the Chinese rice wine and mix well. Add in the cubed Sichuan vegetables and stir-fry around for about 30 seconds. Start adding the seasoning ingredients into the wok. As I am used to Chinese cooking, I just add as I cook but to make it easier, you can mix the seasoning ingredients up in a separate bowl and do a taste test before adding to the pork mixture.
Add the chicken broth and turn heat to medium, allowing to simmer uncovered until about half of the liquid is absorbed into the pork mixture. Do a taste test and add more soy, vinegar or chilli oil if desired. Turn off the heat and set aside.
Boil the noodles in salted water until 'al dente'. Drain and run the noodles under cold water. Drain well and place noodles in individual serving dishes/ bowls. Spoon a generous amount of sauce mixture on top of the noodles, garnish with some green onion slices and crushed peanuts, also add a sprinkle of ground Sichuan peppercorns for more numbing heat if you wish.
Alternatively, serve the noodles separately from the sauce at the table together with the green onions, crushed peanuts and ground Sichuan peppercorns and allow your guests to spoon as much sauce as they wish.