This is an extremely popular Hong Kong homestyled dish but I only recently 'discovered' it, while watching one of my TVB series, a character mentioned it and since I am always looking for inspiration I set about doing my research on this dish. Today's feature is essentially spareribs steamed in a spicy, sweet and sour concoction made out of plum sauce, daobanjiang (spicy bean sauce), garlic, shallots, chilli peppers and ginger. The flavours of this dish are simple yet every bite is an explosion of appetizing flavours and as you may have guessed, goes extremely well with steamed rice. What I love about this dish apart from the flavours is the simplicity as the spareribs need only be steamed and not much work (or mess) is involved, typical when one has to fry meat. What's more - you can double or triple the amount of the ingredients for the sauce and save the sauce for future cooking use if you store it in an air-tight container in the fridge. The sauce can keep for about 1 week.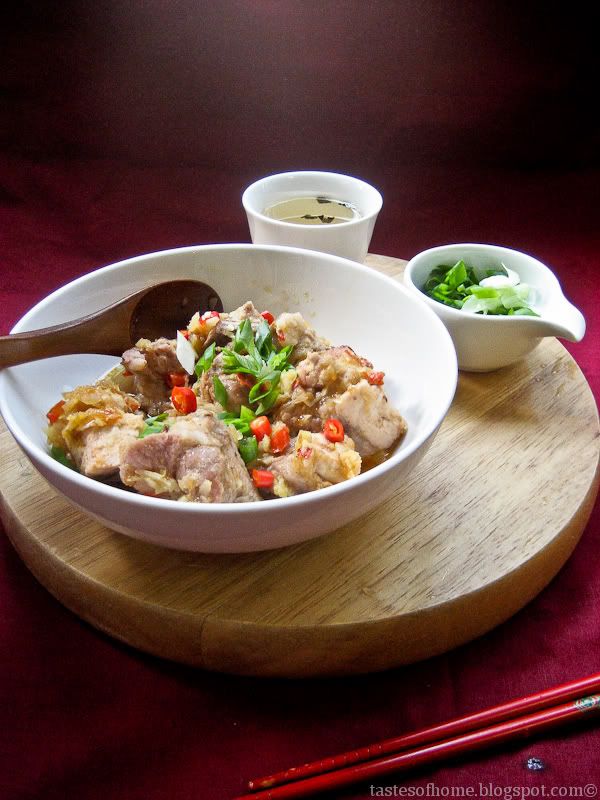 If you have noticed, I may have been deviating from this blog's very own tagline "Easy Asian Homecooking Recipes" for a bit as I have been indulging in baking some Western desserts lately so today's feature marks a return to the basic tenet of this blog. This is a popular home cooked dish and is a favourite for both the cook and the guests possibly due to its' 'low-maintenance' nature where very little effort produces extremely delicious results. I actually chopped up the garlic, ginger, chilli peppers and shallots very finely with a cleaver but you can use a blender or a food processor to make the work even easier. As always, do a taste test after you make the sauce and you can adapt it to make it spicier, more sour or sweeter. I hope you will give this easy steamed dish a try and do let me know if you like it!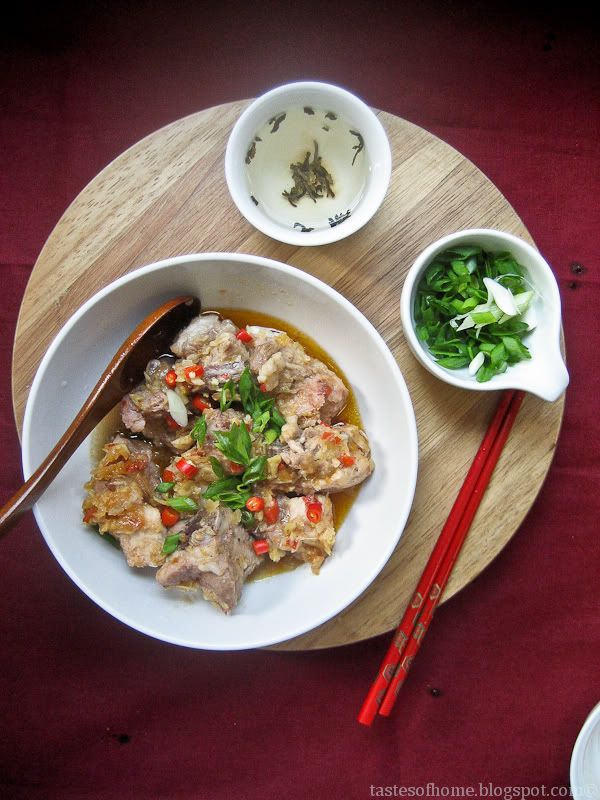 This feature is a part of my Yuen Chun recipes, an ongoing project on this blog. Yuen Chun's plum sauce is one of my favourite cooking products - I like it for its' authentic taste and flavouring that is neither too sweet nor too sour.


Serving suggestion: Steamed rice

Ingredients:

1 pound spareribs
1 whole garlic bulb, skin removed
8 shallots, skin removed
Young ginger, about the size of your palm (measurements don't have to be exact in this regard)
3 bird's eye chilli peppers (substitute with less spicy peppers e.g. large red chilli peppers depending on your spicy food tolerance)
2 water plums (if you can't find these, just skip these)
1 tbsp daobanjiang (Szechuan chilli bean paste)
1 stalk green onion, sliced at an angle, for garnish (optional)
1 large red chilli pepper, sliced (for garnish, also optional)
4 tbsps cooking oil
2 tbsp plum sauce
1 tbsp sugar
1/2 tsp salt
Cornstarch for marinating the spareribs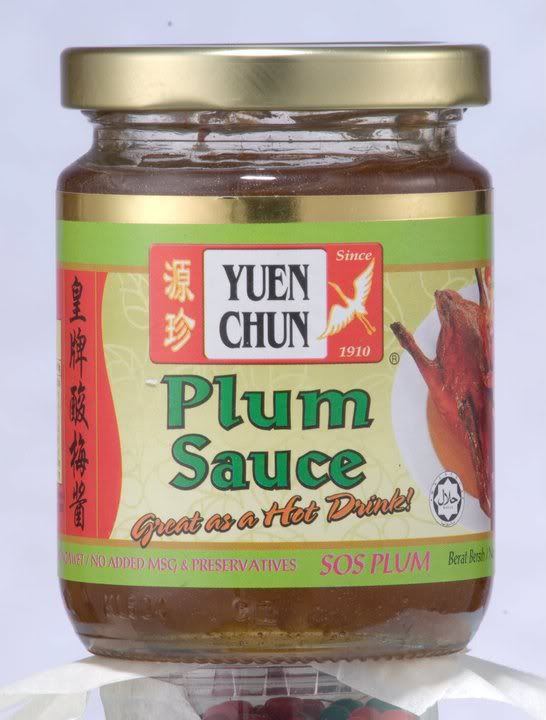 Method:

Firstly, rinse the spareribs and pat dry. Add about 1-2 tsps of cornstarch and marinate. Set aside.

Prepare the sauce by chopping up the garlic, shallots, ginger, water plums and bird's eye chilli peppers finely together. If you are using a blender, blend the above with the daobanjiang.

Heat up a wok or a saucepan. Add about 2 tbsps of cooking oil. Once hot, turn heat to medium and add in the ingredients above. Stir-fry until aromatic. Add in the plum sauce, sugar and salt. Do a taste test and add more sugar or salt if needed. Do note that different brands of plum sauce will have varying degrees of sweetness and sourness.

Once you are satisfied with the flavours in the sauce, remove from heat. Pour over the spareribs and allow to marinate for about 20 minutes or more if you have the time. Add in 1 tbsp of oil to the spareribs and mix well.

Steam over medium-high heat for about 30 minutes or until cooked. Garnish with sliced green onions and sliced red chilli peppers if desired. Serve hot.

Note: As the spareribs will release moisture while being steamed, remember not to add any water into the sauce or the spareribs dish, although the sauce may look too thick - the moisture in the ribs will even it out.