I love spicy noodles not only for the delicious flavours but also for their getting-rid-of-nose-blocks properties! Today's feature is an extremely simple dish of wheat noodles in a spicy anchovy-based broth with some crabsticks and green chilli peppers thrown in, finished off with generous dashes of sesame oil and soy sauce, this was actually inspired by Korean style spicy ramen. I have not been cooking much lately so contrary to popular belief, food bloggers really don't cook all the time or maybe it's just me. I love eating Korean ramen but wanted something a little healthier today so I opted for some wheat noodles instead of the popular processed noodles plus skipped the msg with homemade broth. As I did not have much ingredients left in my fridge, I just added some sliced crabsticks and green chilli peppers for even more heat.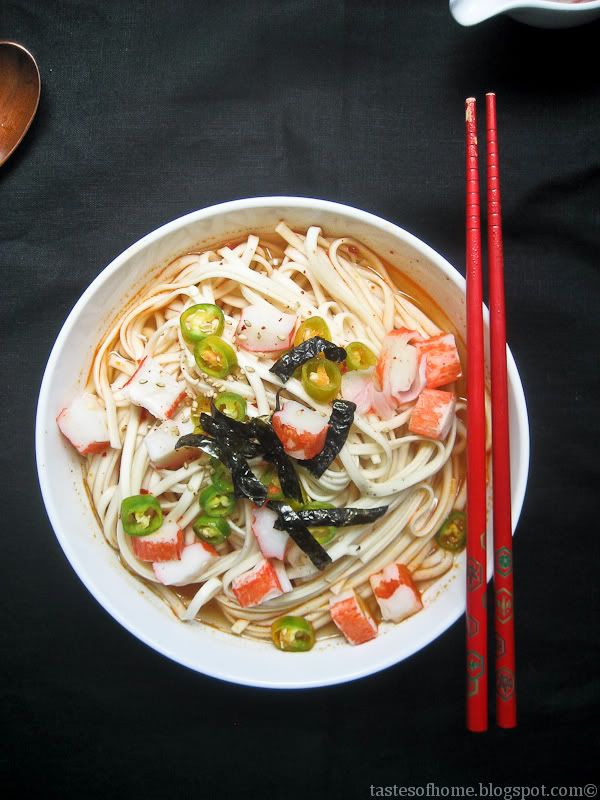 This is something you can whip up easily in your kitchen and you can tailor-make the ingredients to suit your tastebuds. The wheat noodles you see are usually used in jjajangmyeon or Korean black bean noodles, the Korean version of China's famous zhaziangmian. If wheat noodles are not easily available where you are, you can substitute with angel hair pasta and choose whole wheat versions for an even healthier dish. As I have mentioned earlier, I don't have much of a sweet tooth, instead my weakness are rice and noodles so most of my calorie quota is saved for rice and noodles. This was really satisfying and what's more, my blocked nose is gone in I reckon, one of the most delicious ways ever.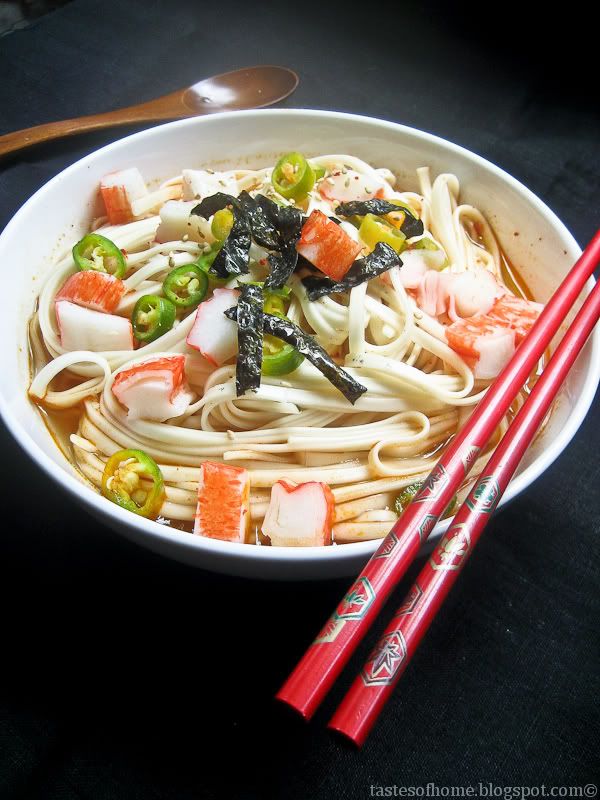 This updated post is now a part of my Yuen Chun Recipes, an ongoing project on this blog.

Serves: 1-2

Ingredients:

4 crabsticks, sliced (feel free to substitute with other seafood of your choice)
1/2 packet of dry wheat noodles (about 100g)
3 green or red chilli peppers
2 cloves garlic, smashed
1/2 cup anchovies to make stock
1 tbsp gochugaru (Korean chilli powder)
1 tbsp gochujang (Korean chilli paste)
1 tsp sesame oil
1 tsp light soy sauce (I used Yuen Chun's)
Pinch of salt

Garnish:

1 tbsp toasted sesame seeds
1 sheet seaweed, toasted and cut or crushed (toast atop a burning flame by waving back and forth until it feels crackly)

Method:

Cook the noodles according to package instructions. Drain and rinse under running cold water. Set aside.

Prepare the broth by boiling about 2 cups of water in a soup pot. Add in the anchovies and boil on low heat for about 20 minutes. Turn off heat and remove anchovies. Strain the stock through some cheesecloth. Set aside.

Boil the stock again and once boiling, add in the gochugaru, gochujang, garlic, half of the chilli peppers and the sesame oil. Add the soy sauce and do a taste test. Add in more soy or salt if desired.

Arrange the noodles in a serving bowl. Arrange the sliced crabsticks on top of the noodles. Sprinkle the sesame seeds on top. Pour the stock gently into the serving bowl and finally garnish with the remaining chilli pepper slices and seaweed strips. Serve immediately.