Chinese steamed buns or baozi/ pao are one of my favourite Chinese inventions to put it lightly - yes, I love steamed buns that much. I have always been intimidated when it came to making my own at home though, I remember trying a bao recipe ages ago when I was still in secondary (high) school and the dough didn't even come together, I'm not sure if it was the recipe or if it was just me. Anyway, I'm so happy today to share with you a fool-proof, guaranteed recipe for making soft, fluffy and toothsome Chinese buns. The dough is a basic recipe that I adapted from 'Dim Sum' and the possibilities are endless with this one, you can make savoury buns, sweet buns like today's red bean version or use the ever popular lotus paste and even kaya (coconut jam) which is more popular in South East Asia.




For my last steamed bao feature, I received quite a few questions from some readers and I have tried addressing your questions under my usual 'notes feature' below. I did cheat a little for today's recipe in that I did not make the red bean paste filling from scratch, if it's available in ready-made form where you are, I totally recommend using it as making your own can be time-consuming especially if you don't use a whole lot of red bean paste. On the other hand, making my own steamed bao at home is always rewarding for me, there is just nothing like freshly steamed bao right from your very own wok. This recipe is also very easy to follow and I've also included step-by-step photos, only one round of proofing is required and the rest of the steps are very straightforward. So, I hope you'll take the plunge if you haven't already and try making your very own handmade baos at home.





Notes from Jen:

1. You can substitute the bao/ pao flour with regular all purpose flour, it's just that AP flour is usually unbleached and your baos will end up with an attractive yellowish tinge, however this is up to you.
2. For self-raising flour, different brands will have a different ratio of baking powder mixed in hence, this recipe is only catered for self-raising flour unfortunately, but feel free to experiment. ( I googled this and to get 250g of self raising flour from all purpose, add 1 tsp baking powder and 1/2 tsp baking soda but I have not tried this myself so I can't vouch for it personally).
3. You can make your own red bean paste and I have tried it but it can be a time-consuming process and not always rewarding depending on the recipe you use :O. I prefer using store-bought ones.
4. When steaming, make sure that the water is already boiling rapidly before you put in the baos for steaming as they need to be steamed over high heat. Low heat may create some slight mushiness in the texture of the baos.


Makes 1 dozen buns/ baos

Ingredients:

1 1/2 tsps active dry yeast
1/2 cup warm water
1/4 cup granulated sugar
1 cup bao/ pao flour (you can substitute with all purpose flour but the buns will just take on a yellowish tinge, you can find bao flours in most Asian grocery stores)
1/2 cup self-raising flour
3 tsps of melted butter (unsalted)

Filling:

1/2 cup of red bean paste (you can buy this ready-made from most Asian grocery stores)

Method:

1. In a small bowl, mix the yeast with 2 tbsps warm water, 1 tsp sugar and 1 tsp of bao flour. Mix well to get rid of the lumps, cover with a damp kitchen towel and set aside in a warm place until frothy, this should take about 15 minutes. If the mixture is not frothy at all, it is likely that the yeast has died so redo this step with some new yeast. Meanwhile, cut up 12 squares of baking paper (measuring roughly 3 inches by 3 inches) for placing the buns on while steaming.


2. In a large bowl, sift the remaining all-purpose flour and self-raising flour. Add in the rest of the sugar, the yeast mixture, the warm water and melted butter. Use a wooden spoon to form a soft dough.
3. Prepare a floured working surface. Turn out the soft dough and start kneading with your hands until smooth and elastic, this should take at least 10 minutes. The dough should not be too sticky. Dust with extra bao flour as needed.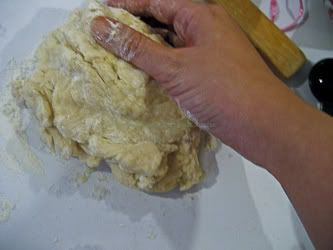 4. Prepare an oiled bowl and place the dough into it. Cover with a damp kitchen towel and allow to proof for at least 1 hour or until doubled. Note that it will take longer usually to proof in colder and drier climate.
5. Punch down dough to remove some of the air. Prepare a floured working surface. Knead the dough briefly for about 5 minutes. Roll the dough into a log. I do this for easier division of the dough for each bun. Meanwhile, you can prepare a wok for steaming, by the time you finish sealing the buns, the water should be boiling rapidly and you can immediately steam the buns.
6. Divide the dough into 12 portions roughly. Take one portion of dough, knead with your hands lightly and form into a ball. Flatten the ball with your hands and press down with your thumb in a circular motion.
7. Spoon about 1 1/2 tsps of red bean paste into the middle of the flattened dough. Seal the dough by gathering the edges together and gently twist to seal. Place the bun, seal-side down onto the prepared baking paper squares.
8. Steam the buns over high heat (covered) for about 15 minutes. Note that the buns will expand while steaming for the first time. Do watch the wok to make sure that there is enough water while steaming.
9. Serve hot. If there are still leftover buns after the first serving, allow to cool and store in an air-tight container, they can be re-steamed later.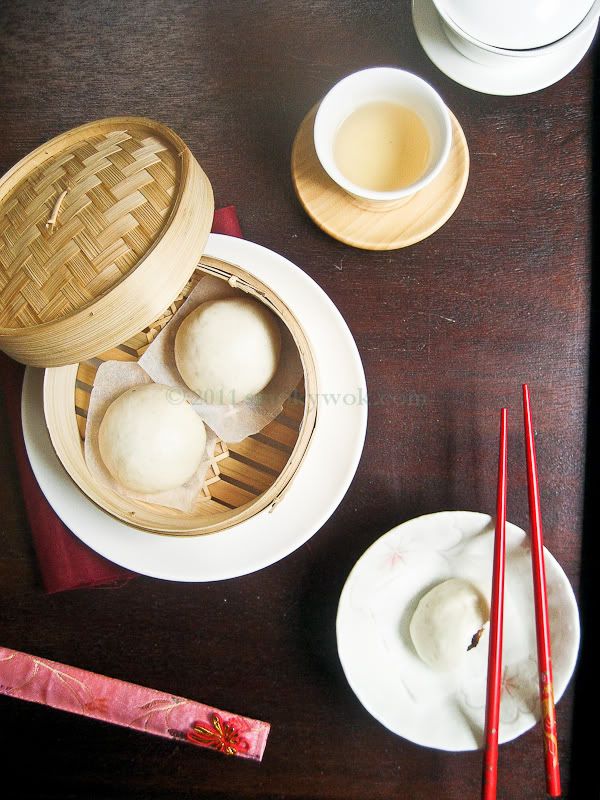 Featured on
Gourmet Live (Dumplings in Demand)