Instead of the ever popular steamed ground pork, I decided to add a little tweak and I pan-fried these ground pork patties after steaming. The pork was flavoured mainly with ginger slivers and minced garlic. To get the roundish shapes of the pork patties, I merely used a cup to 'shape' the patties after steaming. You can also just choose to pan-fry the ground pork as is. If you don't like pork, just substitute with ground chicken.

This is a very delicious and simple dish, if you don't feel like having them pan-fried, just stop at the steaming step and you will have a very simple and flavourful dish. Steaming is a wonderful cooking process as it involves very little mess (relatively!) and is also relatively healthier.

Delicately crispy on the outside, moist and tender on the inside!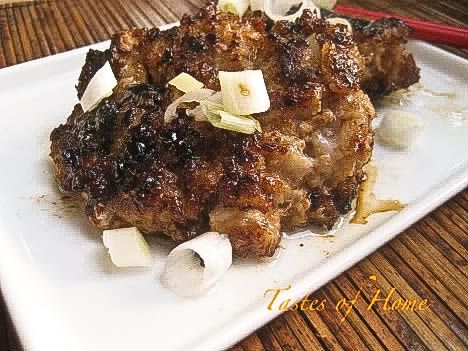 Interested in more pork recipes? Please click on my other recipes below:

Hakka Steamed Salted Egg with Ground Pork

Stir-fried Mui Choy with Pork

Hakka Char Yoke

Sweet and Sour Pork

King-to Spare Ribs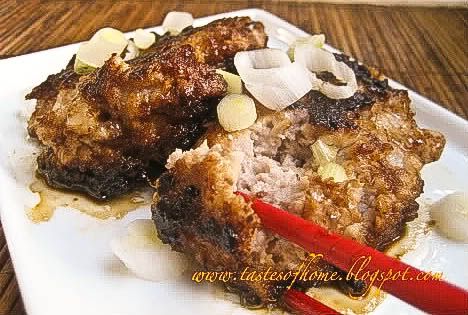 Ingredients:
1/2 pound ground pork (please adjust quantities accordingly)
4 cloves garlic (minced)
1 tbsp finely chopped ginger slivers
Green onions for garnish (optional)

Marinade:
1 tbsp mirin (you may substitute with sugar)
1-2 tsps Chinese Rice Wine (Shaoxing Wine)
1 tsp sesame oil
1/2 tsp white pepper
Dash of salt
1 tbsp corn flour/ starch
2 tbsps dark soy sauce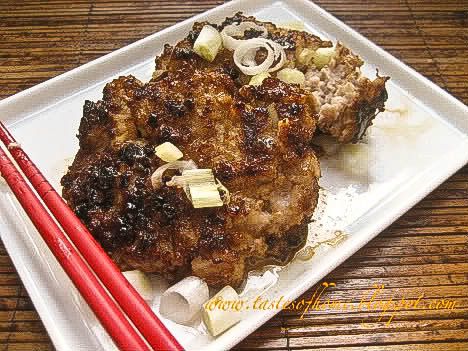 Method:
Firstly, chop the ground pork, ginger slivers and minced garlic cloves together. Chopping the ingredients together will cause the ingredients to be mixed more throughly. Next, marinade the pork mixture with the ingredients above except for the dark soy sauce for about 15 minutes or longer if you have the time. Now, place the pork mixture in a shallow bowl for steaming. Steam the pork for about 15-20 minutes - the time also depends on how thickly you packed your bowl.

Once the pork is cooked, pan-fry the pork patties by heating up about 2 tbsps cooking oil. Turn the heat down to medium low and add the dark soy sauce and a dash of sugar. Place the patties gently into your wok or pan , give the patties a quick fry on both sides, about 1 minute on each side. Garnish with green onions if you wish. Serve.