I love pa jeon or 파전 in Hangul which is basically a savoury pancake made with green onions which is an extremely popular Korean snack, banchan (the little side dishes) at meals or as anju (dishes consumed while drinking). These pancakes are especially popular on rainy days and eating these with soju is definitely comforting although I have to admit I'm not much of a drinker. Anyway, these were extremely easy to make consisting of only flour, water, egg and of course the green onions. There are many variations to this basic recipe where you can add seafood, kimchi, mushrooms and the list goes on.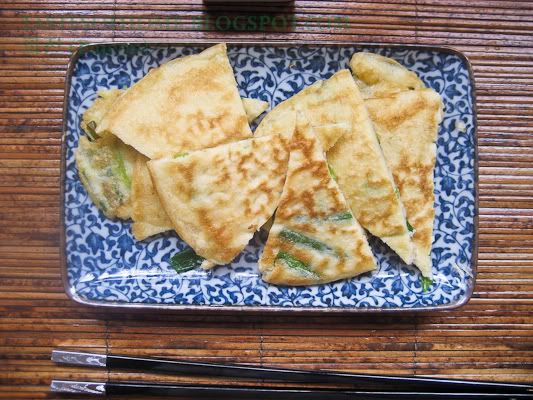 Although similar in many ways to the equally delicious Chinese snack, green onion pancakes (葱油饼) pa jeon is more of a 'true' pancake in that it is made with batter whereas the Chinese version is essentially fried dough.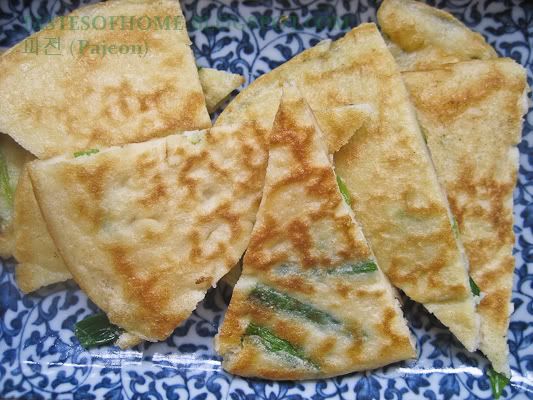 I merely used all-purpose flour with a tiny bit of baking powder today but you can substitute a portion of the flour with rice flour which should make the pancakes fluffier or corn starch which should add to its' crispiness. Anyhow, this is an extremely easy and delicious snack to prepare at home and I can't wait to experiment with more ingredients next time!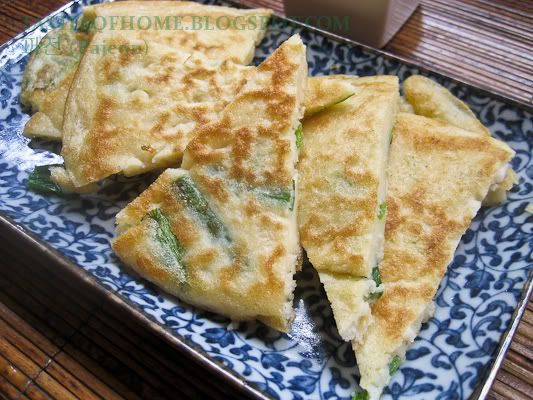 Ingredients:

1 large egg
1 cup all-purpose flour
1 cup cold water
1/2 tsp baking powder (optional)
4 stalks of green onions, cut lengthwise (only use the green parts for the pancake)
1/2 tsp of light soy sauce
Dash of sesame oil

Dipping sauce:

1/4 cup of light soy sauce
1 tbsp sesame oil
2 tsps sugar
1 clove garlic, minced
1 stalk green onion, minced
3 red chilli peppers, cut
1/2 tbsp vinegar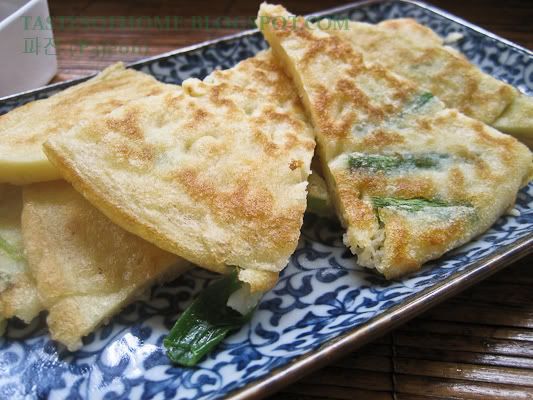 Method:

Firstly, mix the ingredients for the batter well in a bowl or large cup. Heat about 1 tbsp of cooking oil in a non-stick pan. Saute the white parts of the green onions in the pan (this is to infuse some fragrance into the oil). Remove the white parts of the green onions and discard. Turn heat to medium, pour about half of the batter into the pan depending on the size of the pan you're using. Lightly tilt the pan for the batter to cover tha pan. The top of the pancake should start to bubble after 1 or 2 minutes. Wait for another 1-2 minutes then flip the pancake and continue frying the other side until almost golden brown. This should be easy to do with a good non-stick pan. Repeat the frying process with the rest of the batter. Cut the pancakes into wedges for easier serving.

Finally, mix all the ingredients for the dipping sauce in a separate bowl and do a taste test. Add more sugar if desired. Serve with pancakes.