Fish head curry has its' own cult following in Malaysia - there are restaurants solely dedicated to fish head curries, probably not surprising as most fish aficianados say the cheeks of the fish are the most succulent and best parts for eating. At first glance though, fish head curry may look daunting to the uninitiated - I still remember how confused I was as a child looking at the giant fish head sitting on the equally giant platter wondering just how I was supposed to go about eating it. Of course, the giant eyes staring back at me from the plate did not help. My memory is a bit hazy but I recall my dad going for the eyes and if you think fish has a lot of protein, think at least twenty times more for the eyes. My dad claims that is the main reason why he has very good vision, because he eats a lot of fish eyes!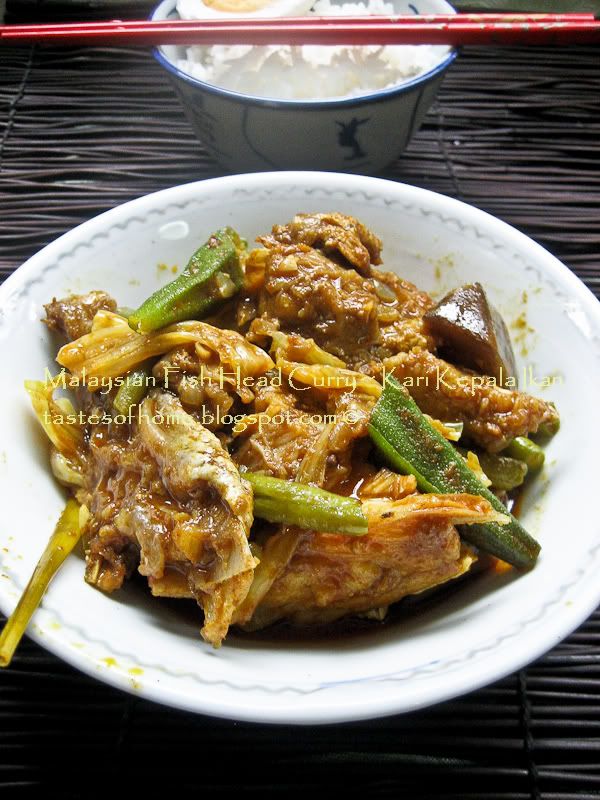 Today's recipe is extremely easy - you can make an authentic and delicious curry dish with store-bought curry paste as long as you add some touches of your own. If you are going for the fish head, do get your fishmonger to chop the heads up to make your prepping and cooking easier. I used garoupa head which is recommended by my mom as garoupa does not have a strong fishy taste which is a real turn-off in fish head curries. That is why we prefer to cook our own as the freshness of the fish is guaranteed. If fish head sounds too exotic for you, feel free to substitute with fish fillets. The fish pieces are first deep-fried before cooking in the curry to ensure the fish does not fall apart and turn into mush. If you like fish and curries, do give this a try!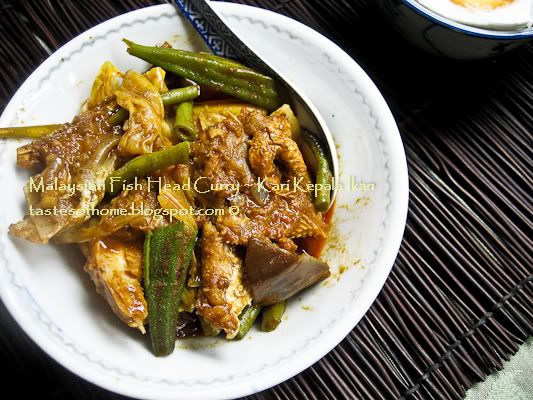 For my Malaysian curries, I prefer the A1 brand. They have a great selection of curry pastes that so far tastes the best to me. I love having a lot of vegetables in my curries as well and for today, I added eggplants, long beans and cabbage, essentially making my curries easy one-dish meals.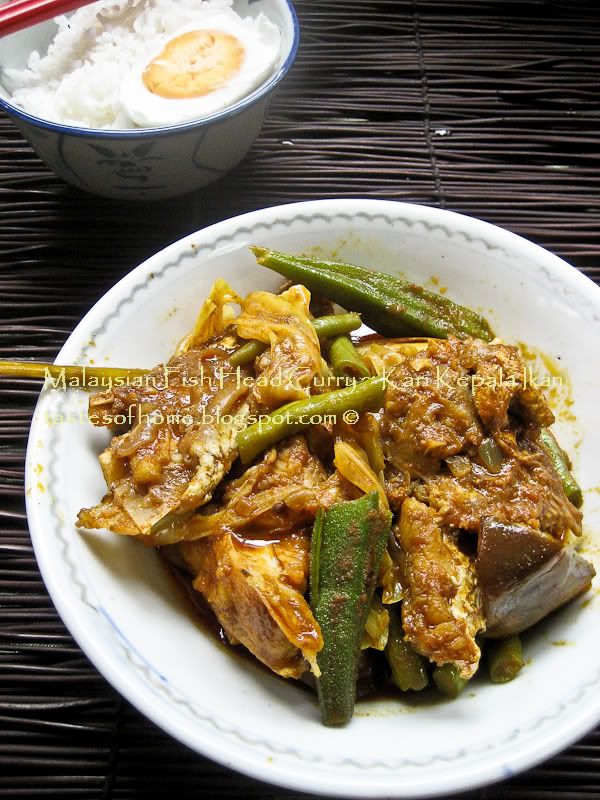 Ingredients:

1 garoupa fish head, chopped up
6 small shallots, minced
2 stalks lemongrass, smashed with the back of a heavy knife
1 packet A1 fish or seafood curry paste (if you are using another brand, select the ones that say fish or seafood as meat curry paste tastes slightly different)
2 Chinese eggplants, sliced to 2 inch pieces
1 cup of long beans, sliced to 2 inch pieces
1/2 cabbage, cut to 2 inch pieces
1-2 tsps light soy sauce
Enough water
Enough cooking oil for deep-frying the fish and eggplants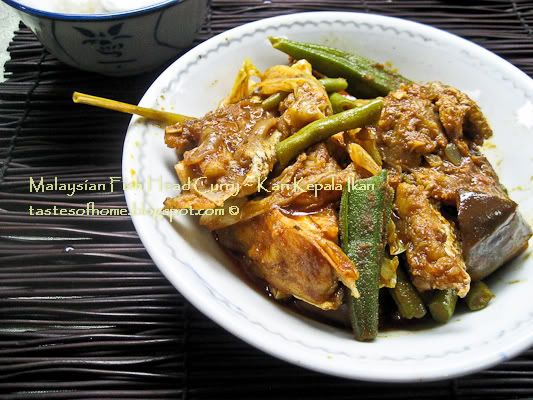 Method:

1. Marinate the fish head pieces with salt and place in fridge for a couple of hours. This is to make the frying process easier.

2. Deep-fry the fish pieces in hot oil until about 60% cooked. Remove from oil and drain. Set aside.

3. With the same oil, give the eggplant pieces a quick fry. This is to preserve the vibrant purple colour as much as possible, if not the eggplants will quickly turn brown once cooked. (I find that this step works the best with Chinese eggplants). Remove from oil and drain. Set aside.

4. Blanch the green beans and cabbage in boiling water. Remove after 2-3 minutes, less for the cabbage.

5. Clean the wok you used for the frying. Heat about 2 tbsps of oil in the wok. Add in the lemongrass, shallots and curry paste. Turn to medium-low heat and stir-fry the curry paste mixture until you can see the oil separating from the paste.

6. Add in the fried fish pieces and stir quickly to coat. Add about 1/2 cup of water and place the green beans and cabbage into the wok. Bring to a boil. Add in the eggplants last. Do a taste test. Add a small splash of light soy sauce from the edge of your wok if not salty enough.