When I first moved to San Diego, I was both fascinated and curious with the abundance of Mexican food everywhere. I remember being confused about the various Spanish words that I pronounced wrongly at first - La Jolla where my office was located is pronounced 'La-Ho-ya' and of course tortillas are pronounced 'tor-ti-ya' instead of literal pronunciations. Gradually, I got used to it and instinctively knew how to pronounce most names of the places and food around and in San Diego. I have to admit that I am not a big fan of burritos; I just could not appreciate the beans and rice wrapped together with a flour or corn tortilla. But I do like tacos and my preference is for soft tacos and made with just a plain flour tortilla instead of corn tortillas. This was my first attempt at making tortillas at home and the homemade variety really trumps store-bought (not surprisingly!) although store-bought ones make for much quicker preparation.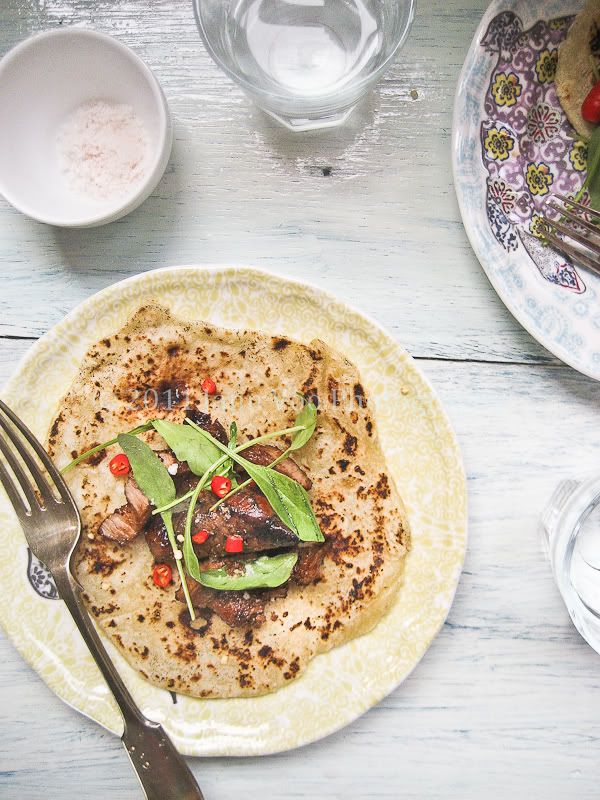 Today's feature is a Chinese-Mexican fusion dish where the filling is simply pork marinated in some thick caramel sauce, chili and garlic powder. The caramel sauce gave the pork the gorgeous sheen and is really a very versatile sauce to have around the kitchen. You can usually find this sauce in the soy sauce sections at most Asian grocery stores. I served the pork with some arugula or also known as rocket and topped everything off with some bird's eye chili peppers for even more heat. Arugula is one of my favourite vegetables especially for salads but because of its' slightly bitter and sharp taste, not everyone is a fan. If you are not, please feel free to substitute the arugula with other salad greens of your choice. I really loved my fusion attempt this time around and I hope you'll give this a try soon or even better, experiment with different fillings and have fun.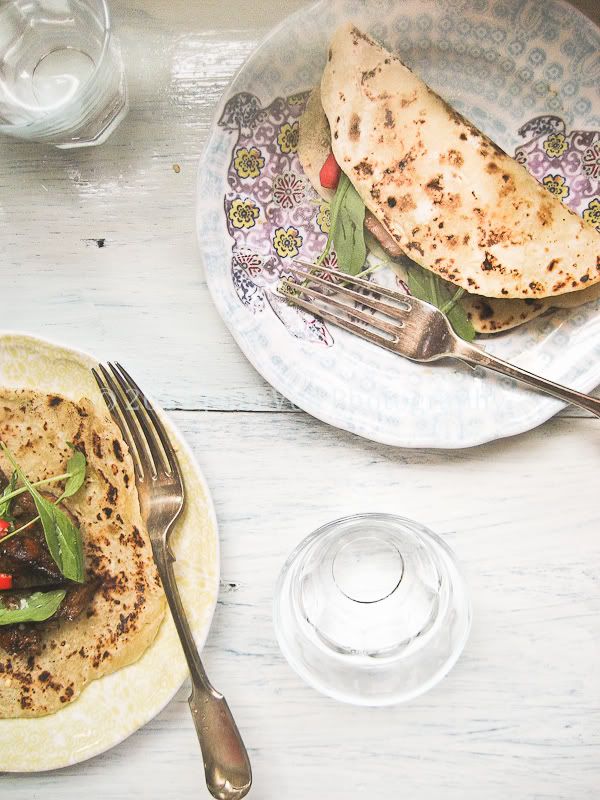 This post is part of my Yuen Chun Recipes, an ongoing project on this blog.



Serves 6 generously (Note that the pork requires a marinating time of about 30 minutes at least.)

Makes about 16 tortillas

For the Tortillas: (adapted from Donna Hay's Anniversary Issue)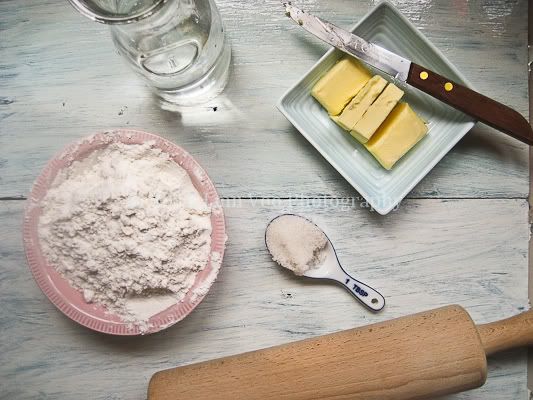 Ingredients:

5 cups (625g) of all-purpose flour plus more for dusting while kneading (I had to add a substantial amount of flour for the dough to come together from the original recipe)
1 tbsp salt
50g cold butter, chopped
2 cups boiling water and more if needed (up to half cup more)

Method:

Firstly, get a large mixing bowl ready. Add in the flour and salt, mix well. Now, add in the cold butter.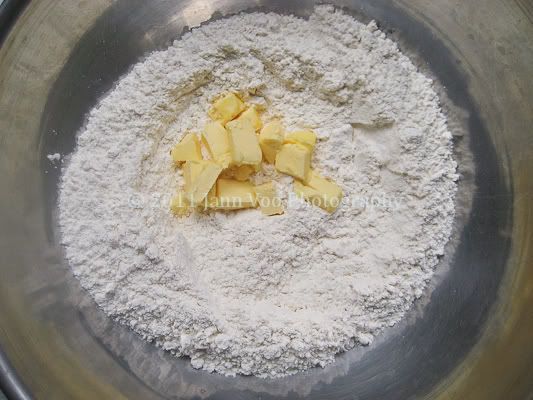 Use your hands to rub the butter into the flour until the whole mixture resembles breadcrumbs.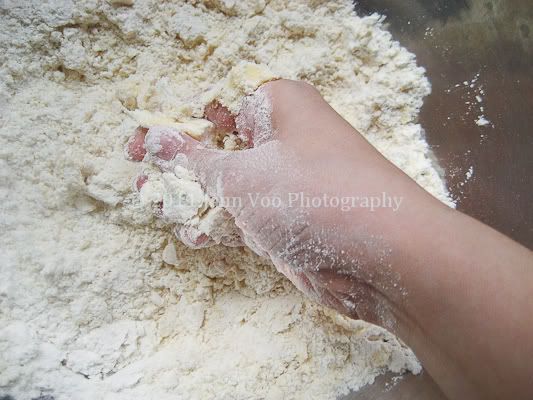 Gradually pour in the boiling water and bring the dough together with a wooden spoon. 2 cups of boiling water was enough for me to bring the dough together but do note that where I am is very humid. If you need more water to bring the dough together, add another half cup a little by little until the dough comes together well.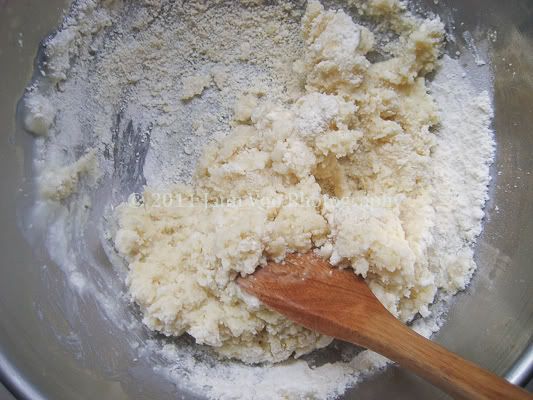 Prepare a lightly floured work surface. Turn the dough out onto the surface.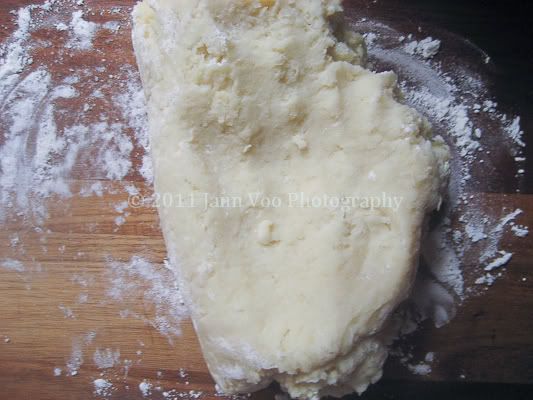 The dough will obviously be hot still so wait a little before kneading. The recipe in Donna Hay did not mention this and I'm telling you through experience! The dough will definitely be too hot to handle with bare hands.

Once the dough is just warm, knead the dough well for at least 10 minutes until smooth, dusting with additional flour as necessary.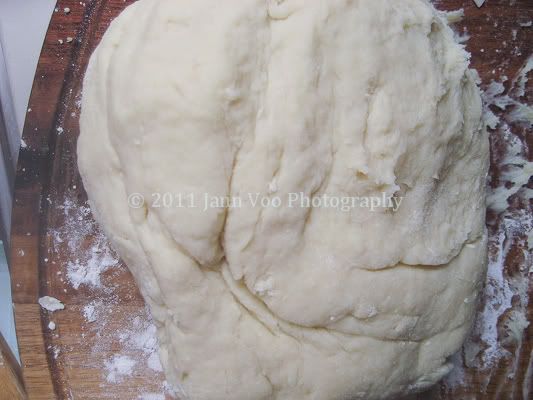 Once smooth, divide the dough into about 16 portions. Shape each portion into a ball and place on a lightly floured surface.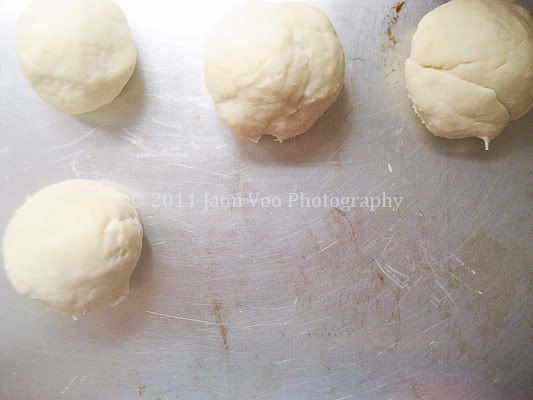 Roll out each dough ball into a rough circular shape.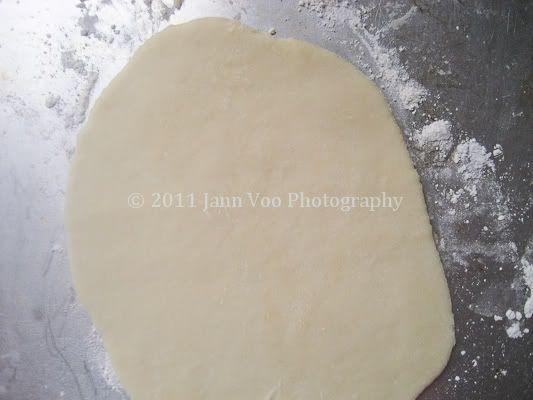 Your tortilla is ready to be cooked. Heat up a non-stick frying pan and once hot, place a tortilla into the pan. Turn heat to medium and fry the tortilla for 2 minutes on each side or until surface is lightly browned. Keep the tortillas wrapped in a kitchen towel on a plate to keep warm.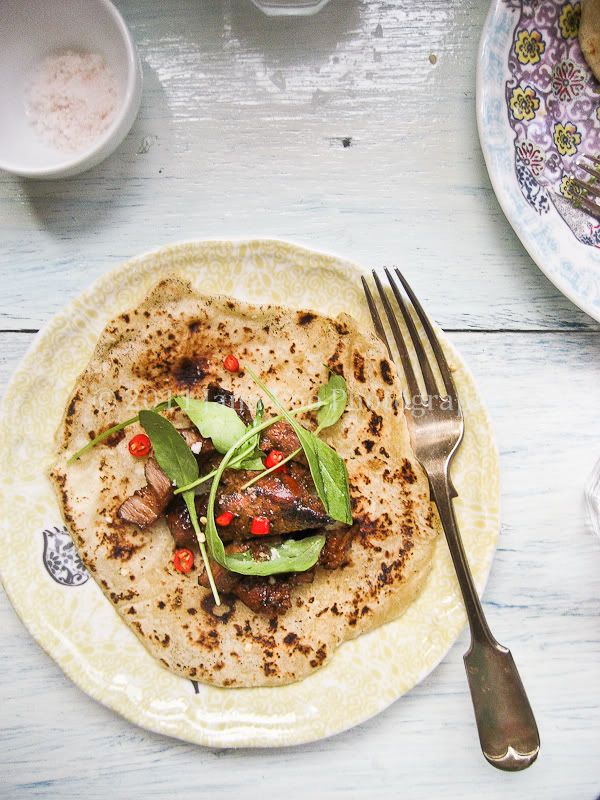 For the Filling:

Ingredients:

4 pork chops

Marinade:

2 tbsps thick caramel sauce (I used Yuen Chun's famous product)
1 tbsp garlic powder
2 tsps chili powder
1/2 tsp sugar

1 tbsp oil for brushing

Handful of arugula/ rocket or other salad greens of your choice
2 bird's eye chili peppers, sliced





Method:

Pre-heat the oven to about 200 C (392F). Brush the tops of the pork chops with the oil. Once hot, roast the marinated pork chops on baking tray lined with lightly greased foil or baking paper.

Allow to roast for about 20 minutes or until lightly browned.