Do you like brussel sprouts? I've heard that brussel sprouts belong to the category of foods that require an acquired taste as it does have a slight bitter taste which I find delicious incidentally. Interestingly, brussel sprouts remind me of a very popular vegetable used in Chinese cooking namely, 'kai lan' (also known as Chinese broccoli) which also has a slight bitter taste. I find that fresh brussel sprouts trump the frozen variety so when I saw some nice-looking ones at the local grocery store, I knew I had to do something with it. I decided on a quick pasta dish as for some inexplicable reason, I have been yearning for a good bowl of pasta lately and since I have not cooked fettucine in a long while, shrimp and brussel sprouts fettucine it is.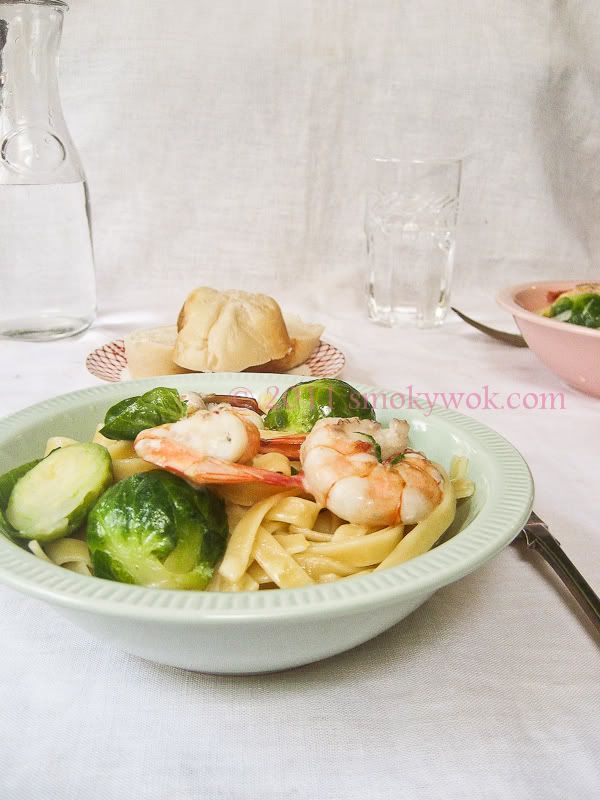 You have two options with today's easy dish where the cream is entirely optional, for a lighter dish skip it of course - pasta cooked together with the shrimp, brussel sprouts and garlic in some olive oil is great on its' own. I blanched the brussel sprouts first in some salted water before adding them to the pasta as you have to make sure the insides of the brussel sprouts cook well and since the ones I got were rather large, I halved them as well. Shrimp is so versatile and not surprisingly went really well with the brussel sprouts in this easy pasta dish. You'll probably have most of the other required ingredients already in your pantry, namely garlic, some wine, salt (of course!) and finally some cream if you do opt for the more indulgent option.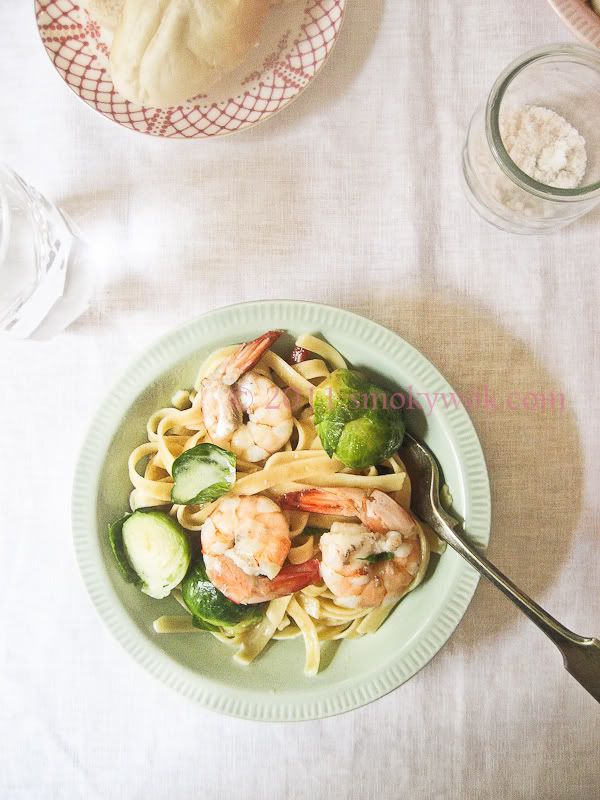 I am also sending this as an entry for
Presto Pasta Nights
hosted by Theresa of
Food Hunter's Guide to Cuisine
this week. Presto Pasta Nights is a weekly event created by Ruth of
Once Upon A Feast
of which I had the pleasure of hosting quite a few months
ago
. Click on the links if you want to join in the fun. This is a basic recipe which you can tailor to suit your preferences, this would work very well with clams instead of shrimp as well. Finally, I want to wish all of you celebrating Deepavali tomorrow a very Happy Deepavali!
Serves 4
Ingredients:
250g of fettucine
12 medium-sized shrimps, shelled but leaving the tails intact
4 cloves garlic, sliced
12 brussel sprouts, halved (blanched in boiling water for about 2-3 minutes or until middle is tender)
3 tbsps olive oil (Note: in cooking pasta, it's not required to use the highest quality extra virgin olive oil which is more important if you are using it as a dipping or if you are making
focaccia
in my experience)
1/4 cup white wine
1/2 cup heavy cream (if using)
1/4 cup water
3 tsps salt, or to taste (add teaspoon by teaspoon)
Method:
Firstly, bring a pot of salted water to the boil. Remember to use a large enough pot to make sure the pasta does not end up clumping together. Make sure the water in your pot covers the pasta by a good 6 inches. Using too little water or too small a pot will cause the pasta to end up clumping together and this is definitely not good, especially for fettucine which usually has a higher chance of clumping together compared to say, spaghetti.
Boil the pasta until al-dente. Remove and drain. Do not rinse. Set aside. At this point, you can add a drop or two of olive oil to the pasta and mix it lightly to further ensure non-clumping of the pasta. Do ensure that your colander is large enough as well.
While the pasta is boiling, blanch the brussel sprouts in some lightly salted water. Once the centers are tender, remove and drain. Set aside.
Now, heat a pan (make sure it's deep enough for the pasta to go in as well). Add the olive oil. Turn heat to medium and add in the garlic. Stir-fry until aromatic. Add in the shrimp and saute until the flesh starts turning pink. Quickly add in the brussel sprouts. Turn heat to high.
Add the white wine. Bring to a boil. Add in the cream if you are using*. Add the water. Bring to a boil again. Add in pasta and mix well to incorporate. Season with the salt. Allow the pasta to absorb most of the liquid. Do a taste test and add more salt if required. Serve hot.
*If you are not using the cream, skip the water as well, it will be like making an 'aglio olio' just with shrimp and brussel sprouts.