Just another easy and satisfying dish - kimchi fried rice this time with mushrooms. Simple, delicious and totally addictive kimchi fried rice is one of my favourite Asian comfort foods. As always, fried rice is usually made with leftover rice (day old is preferred) and in this case is a great way of using up slightly overripe kimchi. Apart from kimchi fried rice, overripe kimchi is also popularly used in spicy stews like this. I have been craving kimchi fried rice for a bit and finally got my fix today. For the uninitiated, kimchi might take a little getting used to, it is basically fermented vegetables (in this case cabbage) in a pungent brine of gochujang (fermented chilli bean paste), gochugaru (Korean chilli pepper powder), anchovies and a host of other fermenting ingredients which vary according to recipes.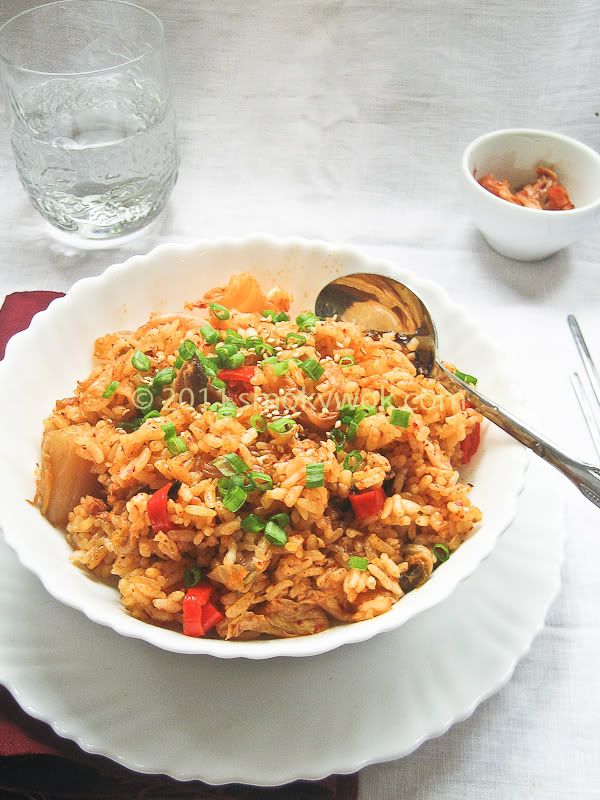 As I wanted a quick fix, I only used ingredients I had in my kitchen to save myself a trip to the grocery store but as with all fried rice, feel free to add whatever other ingredients that you fancy. For today, I used some fresh shitake mushrooms, sesame seeds and red chilli peppers for an easy vegetarian meal. It is also customary to serve kimchi bokkeumbap with a fried egg on top but since I was feeling a little lethargic, I skipped that, I did add some toasted sesame seeds and green onions as garnish which added to the fragrance of the dish. This fried rice is easy to make, filled with spicy flavours and just so addictive. You'll probably have to try it to know what I'm raving about :O. Oh, and if you don't usually cook Korean food, you'll need to get some gochugaru (Korean red chilli pepper powder) to complete the dish. Just like gochujang (fermented red pepper bean paste), gochugaru is indispensable in a lot of Korean cooking.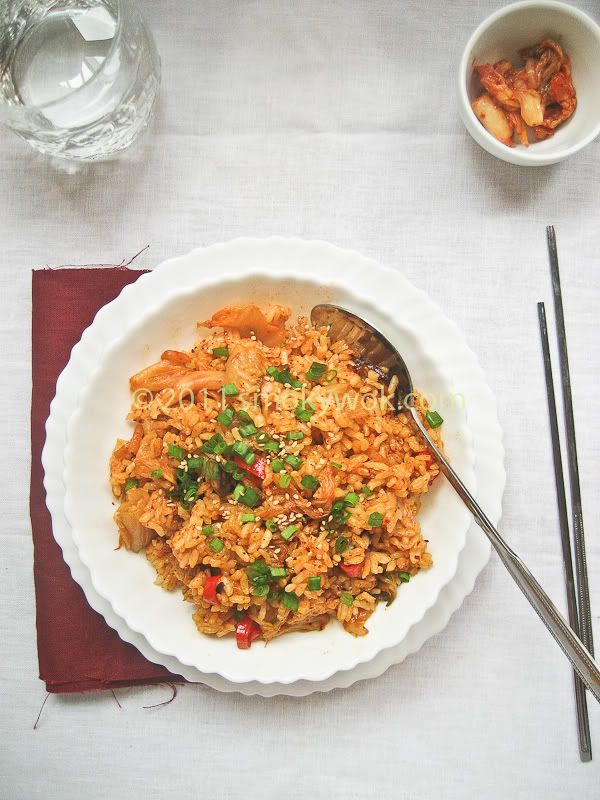 Serves 1

Ingredients:

1/2 cup short-grain cooked rice (day-old is preferred though I have used freshly cooked rice before with satisfactory results)
1/4 cup cabbage kimchi, chopped to bite-sized pieces (remove the brine as much as you can)
4 fresh shitake mushrooms, sliced (stem removed)
1 large red chilli pepper (you can use green if you like)
1 stalk green onion (as garnish)
1 tbsp toasted sesame seeds
1 tsp gochugaru (Korean chilli powder)
1 tsp sesame oil
1 clove garlic, minced
2 tsps light soy sauce or to taste

Method:

Firstly, heat up your wok until almost smoking. Add 1 tbsp of cooking oil. Turn heat to low. Add garlic, kimchi and gochugaru. Add in the mushroom slices as well. Stir fry until aromatic. Add sesame oil.

Add about 1 tsp of water. I did this to make sure the mushrooms turned soft enough. Add in the rice and start stir-frying. Turn heat to high. Continue stir-frying for about 3 minutes to get everything mixed in well. Add the sliced chilli pepper and fry again. Season with the light soy sauce to taste.

Once the rice is seasoned to your liking, remove from heat and spoon into serving bowl. Garnish with some green onions and sesame seeds. For the green onions, you can just use a pair of kitchen scissors to cut the green onion into tiny slices right on top of each bowl. Serve hot.